Opening Up Gainax's Medaka Box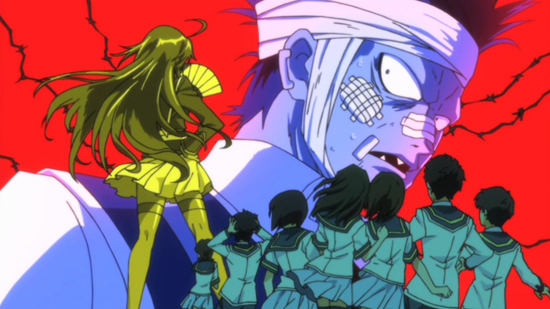 Medaka Box follows the misadventures of the Hakoniwa Academy Student Council, ruled with a power-loaded fist by first-year student and fresh elect Medaka Kurokami. The premise is pretty straightforward: folks pop problems in the suggestion box, and Medaka and her council work to resolve the issues. How they go about it, of course, is the fun of the series, and that's just about the highest praise one can give Medaka Box at this point. It's fun with a capital shrug.
This is one of those shows that's actually pretty difficult to appraise. It's not amazing, and it's not terrible. Medaka Box is mildly entertaining, but coming from a studio like Gainax (Gurren Lagann, Evangelion), I'd almost prefer it be on one extreme end of the spectrum or the other. Instead, it's easy to completely zone out while watching Medaka Box, breaking the spell with the occasional chuckle or two depending on the situation.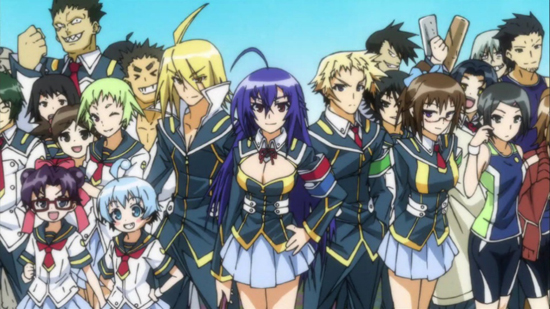 While Medaka is at the center of everything, the real star is her childhood friend Zenkichi Hitoyoshi, who attempts to adjust to Medaka's maniacal ways when it comes to working out suggestion box issues. The first problem is a good one to gauge whether or not you'll enjoy the show. Medaka and Zenkichi learn that the kendo dojo has been taken over by delinquents, and it's up to them to clear the punks out and get it back to tip-top shape. Being a first-year student affects how others receive and treat Medaka, but once they see her in action they tend to fall in line. It ends up taking a little bit of kendo expertise to solve this dilemma, thus showcasing one of Medaka's seemingly innumerable talents in the process.
While Medaka comes off as superhuman in the beginning—especially given her penchant for using her many special moves to solve problems—subsequent episodes begin to wipe away this veneer of flawlessness. We gradually learn some of her weaknesses, and she becomes a slightly more interesting character in the process. Still, we're only five episodes deep now, and the show has some work to do to if it wants to become more than a suggestion-of-the-week showcase. Not that there's anything wrong with that, if that's what you're looking for, but I don't know how much longer it can hold my attention with so many other great shows floating about in this unusually strong anime season.
Medaka Box has been running for a few years in manga form. Written by NisioIsin (Bakemonogatari, Nisemonogatari) and illustrated by Akira Akatsuki, the series has been serialized in Shueisha's Weekly Shonen Jump magazine since 2009. Shouji Saeki—who was previously behind shows like He is My Master, This Ugly Yet Beautiful World, and a couple episodes of FLCL—directs the adaptation for Gainax, and it's really the studio's involvement that has me sticking it out a bit longer than I normally would. I can certainly recommend Medaka Box to others, but I can't do so with the same amount of enthusiasm and forcefulness as Medaka herself.
You can catch the simulcast of Medaka Box at Crunchyroll.