One Piece x Food Wars! Manga Comes to US Shonen Jump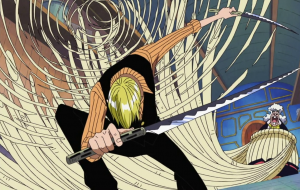 Shokugeki no Sanji is a one-shot spinoff that combines the worlds of Eiichiro Oda's One Piece and Yūto Tsukuda and Shun Saeki's Food Wars! Shokugeki no Soma. The creators of both collaborated on the manga, and it's officially coming to the English version of Shonen Jump.
Shokugeki no Sanji makes its debut alongside Japan in the next issue of Jump on July 23. Here's the description:
This creative team-up is just too perfect for Sanji! Food battles! Disrobings! Don't miss out on this delightfully delectable manga!