On The Shelf – September 5, 2012
Is it really September already? 2012 is moving fast! And you know what this means, back to school! Whether you yourself are back in class today, or just watching the students return, it's always a great time to have a good book handy to help with those cooling days and lengthening nights. And as usual the first shipping week of the month provides just that.
Dark Horse premieres a new series this week with Oreimo (Vol.01), a title that made many a fan happy when it was announced back in April. Behind the cute girl cover is a story about a young man who, despite a less than stellar relationship with his sister, finds himself the protector of her secrets. What are those secrets you ask? "…she's not only a fashion model and a great student, but she's got a huge collection of naughty video games and anime!" I'm always curious about any licensed title that comes with hype from the get-go, so you can bet I'll at least be checking out volume one to see what this potentially hilarious series has to offer.
DARK HORSE
• Oreimo (Vol.01), ($10.99/US, $12.99/CAN)
Meanwhile, it's viruses and villainy in Bloody Monday (Vol.07) as Fujimaru finds himself much closer to the Bloody-X virus than he ever hoped to be. Now trapped in a basement with the deadly strain released in there with him, it's probably the worst possible time to learn that there's a traitor in their midst as well.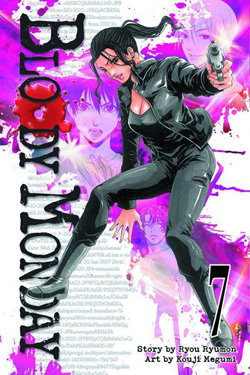 • Bloody Monday (Vol.07), ($10.99/US, $11.99/CAN)
• Gon (Vol.07), ($10.99/US, $11.99/CAN)
Volume two of Venus Versus Virus is Seven Seas' sole release this week, but this omnibus collection packs in three books for the price of one. Collecting volumes four, five and six of the original singles, omnibus two follows the ghost-hunting adventures of Sumire and Lucia as they continue their battles against the 'Virus'. Now at the series' halfway point, the two are duking it out with the big-bad of the story, Sonoka (or at least more of Sonoka's many minions) while hoping they can survive Sumire's outburst of power in the process.
SEVEN SEAS
Venus Versus Virus Omnibus (Vol.02), ($14.99/US, $16.99/CAN)
Vertical Inc brings another Tezuka title back to English with Message to Adolf (Vol.01). The series was originally released by Viz Media in the late 90s, but Vertical Inc is re-releasing the series in omnibus, hardcover editions with a whole new translation and a cover that's hard to miss. In Message to Adolf, Tezuka tells a story of a reporter seeking the truth about his brother's murder and how the lives of three individuals named Adolf are all connected.
For a lighter read, Vertical is also releasing the ninth volume of Chi's Sweet Home. If Chi's adventures in the home with her loving family weren't adorable enough, in this volume she's back out on the streets to visit her friends and learn more about growing from kitty to cat. These books are really fun reads for cat-fans of any age and come in full colour.
VERTICAL INC.
• Chi's Sweet Home (Vol.09), ($13.95/US, $16.95/CAN)
• GTO: Early Years (Vol.14), ($12.95/US, $15.95/CAN)
• Tezuka's Message to Adolf (Vol.01), ($26.95/US, $29.95/CAN)
Continuing along on their very consistent monthly schedule is another two volumes of Bleach, volumes forty-six and forty-seven. They continue the very long, and very involved fight against Aizen and his group. When you've got a cast of characters that big on both sides of the field, it's no surprise the fight just keeps going and going and going… But really, we know we love it, and these long shonen-style fight scenes work great in two-volumes-at-a-time chunks.
A title we haven't seen for considerably longer is Fushigi Yugi: Genbu Kaiden. The previous volume was released back in November 2009! This is going to take some revisits of older volumes to remember what's happening. Still, it's fantastic to see a new volume. After waiting this long, a manga reader starts to lose hope! In this tenth volume, Takiko is back in the Universe of the Four Gods but her Celestial Warriors have become separated in her absence. Takiko must get them all back together while also uncovering the secrets behind Uruki and his Father's hatred, while simultaneously keeping some secrets of her own.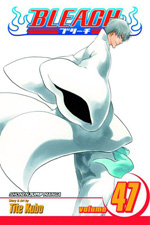 Hunter x Hunter (Vol.28) comes to us after nearly a two year wait, tossing us back in the Hunters circle as Netero goes up against the Ant King with the King's true name on the line. Also out after a bit of a wait, though considerably shorter than the aforementioned, is Library Wars (Vol.08). The romancy cover betrays the drama inside as Iku is confronted by Dojo's true feelings. Important as dealing with that is, however, they may again fall to the wayside as the committee remains embroiled in a conspiracy that marks Iku as being involved with a book burning and discovering there's a traitor among them.
Dramatic as I'm sure Library Wars will be, though, I'm more eager to see how relationships play out in Otomen (Vol.13). Ryo, who upon a little deception is allowed to teach judo at an all-boys school, finds herself put up against Asuka in the ring. This should be fun!
VIZ MEDIA
• Bakuman. (Vol.14), ($9.99/US, $12.99/CAN)
• Bleach (Vol.46), ($9.99/US, $12.99/CAN)
• Bleach (Vol.47), ($9.99/US, $12.99/CAN)
• Earl & Fairy (Vol.03), ($9.99/US, $12.99/CAN)
• Fluffy Fluffy Cinnamoroll (Vol.05), ($7.99/US, $9.99/CAN)
• Fushigi Yugi: Genbu Kaiden (Vol.10), ($9.99/US, $12.99/CAN)
• Hunter x Hunter (Vol.28), ($9.99/US, $12.99/CAN)
• Library Wars (Vol.08), ($9.99/US, $12.99/CAN)
• One Piece (Vol.64), ($9.99/US, $12.99/CAN)
• Oresama Teacher (Vol.10), ($9.99/US, $12.99/CAN)
• Otomen (Vol.13), ($9.99/US, $12.99/CAN)
• Pokémon Adventures: Gold & Silver Boxset, ($49.99/US, $56.99/CAN)
• Psyren (Vol.06), ($9.99/US, $12.99/CAN)
That does it for this week's On The Shelf – what on the list are you most eager to buy? Any must-have recommendations? Share your thoughts in our handy comment area for all our readers to see!
* All dates are based on distributor listings and may not necessarily reflect exact release dates. Some books may ship prior to or after the date listed above varying by location and availability.