On The Shelf – March 14, 2012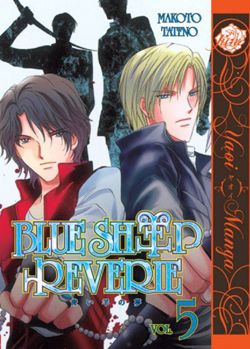 The weather's finally warming up around here – spring is in the air! That means it's time to do some spring cleaning and in my home that means going through the manga bookshelves and doing some much needed pruning. Someday I'd love to live somewhere big enough to keep each and every book I buy, but with weeks like this (which is not a complaint, mind you), I'm going to need one heckuva place!
Digital Manga delivers a stack of new boys' love this week with three one-shots and the newest volume of Makoto Tateno's sci-fi romance Blue Sheep Reverie – "After a hailstorm of bullets, Kai has finally returned to his beloved Lahti's side! But just as the two men find peace in their perfect union, a rival gang sends a cryptic message…"
For another dose of dangerous drama with your BL, in Beast & Feast a detective runs into an old friend who he's shocked to realize is now a member of the yakuza. Complicating the issue even more is the strong attraction the two feel for one another. It's bound to lead to as many passionate confrontations between the sheets as it does on the line of the law (and rated 18+ to prove it!).
DMP also has two series continuing in omnibus format – Itazura Na Kiss (Vol.07) and Yashakiden The Demon Princess (Vol.05). While the shoujo classic Itazura Na Kiss continues on after this with more hilarity between newly-weds Kotoko and Naoki, this fifth volume of Yashakiden marks the end of the series. It's bound to be a rough finale too, with Demon City Shinjuku almost entirely transformed into vampires and the government seeking a quick (nuclear!) fix.
DIGITAL MANGA
• Ambiguous Relationship, ($12.95/US, $14.50/CAN)
• Beast & Feast, ($12.95/US, $14.50/CAN)
• Blue Sheep Reverie (Vol.05), ($12.95/US, $14.50/CAN)

• Depression Of The Anti-Romanticist,
($12.95/US, $14.50/CAN)
• Itazura Na Kiss (Vol.07),
($12.95/US, $14.50/CAN)
• Yashakiden The Demon Princess (Vol.05),
($19.95/US, $21.99/CAN)
Two fan-favorites with their own sizable followings continue on via Kodansha Comics with Phoenix Wright: Ace Attorney (Vol.04) and Sailor Moon (Vol.04). The previous volume of Sailor Moon left on a tense cliffhanger as the Sailor Senshi are being kidnapped one by one with the others helpless to save them from this new threat. What do they want? And who is the little girl now making herself at home in Usagi's house? Even if you already know from Sailor Moon's last round in North America, it's still exciting to experience it all over again through this newly-presented source material.
KODANSHA COMICS
• Phoenix Wright: Ace Attorney (Vol.04), ($10.99/US, $11.99/CAN)
• Sailor Moon (Vol.04), ($10.99/US, $11.99/CAN)
Seven Seas has two volumes in the form of one this week with Gunslinger Girl (Vol.04). The cover of this newest volume is a little unsettling at first but kept in context it's a good indicator of the contents within. In this new book – which collects the original volumes nine and ten – emotions get riled and minds confused when Angelica begins to regain memories of the life she had before becoming one of the agency's assassins.
SEVEN SEAS
• Gunslinger Girl Omnibus (Vol.04), ($16.99/US, $19.50/CAN)
Last up is the lone Viz Media title – House of Five Leaves (Vol.06). The plot of this series can easily get muddled in its own laid-back atmosphere, but volume five had revelations
strong enough to really kick things back on track. Here in volume six, Yaichi's pursuers grow ever closer and Masa learns more about the enigmatic leader than even the other members of the Five Leaves. Everyone's pasts are catching up with them, leaving the future of the Five Leaves in question.
VIZ MEDIA
• House of Five Leaves (Vol.06),
($12.99/US, $14.99/CAN)
That does it for this week's On The Shelf – what on the list are you most eager to buy? Any must-have recommendations? Share your thoughts in our handy comment area for all our readers to see!
* All dates are based on distributor listings and may not necessarily reflect exact release dates. Some books may ship prior to or after the date listed above varying by location and availability.