New Grendizer Robot in Saudi Arabia Breaks Records for Massive Size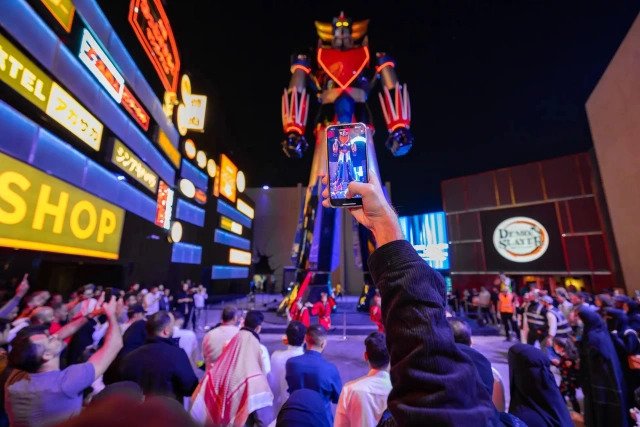 Fans' love of giant mecha in manga and anime has led to people creating giant mecha statues, like the ones in Yokohama or Tokyo. Each time, the people behind these anime mecha statues like to brag about how big they are, and a new statue in Saudi Arabia just made the record books.
The Grendizer statue, based on the work from Go Nagai, was recently unveiled at the Boulevard World entertainment complex in Riyadh.
The Guinness Book of World Records explains:
"The largest metal sculpture of a fictional character (supported) is 33.7 m (110 ft 6 in) and was achieved by Sela (KSA) in Riyadh, Kingdom of Saudi Arabia, on 21 November 2022.

Sela created this sculpture of Grendizer as a permanent structure. It will be used as an entertainment element and a landmark for recreation and tourism to promote the launch of the new Boulevard World in Riyadh, Saudi Arabia."
Looking at the other giant anime mecha out there, there's the 20.5-meter Nu Gundam in Fukuoka, the 19.7-meter Unicorn Gundam in Tokyo, the 18.03-meter Freedom Gundam in Shanghai, China, the 18-meter original Gundam in Yokohama, and the 15-meter Evangelion Unit-01 in Kyoto.
In fact, the statue in Saudi Arabia is bigger than what Grendizer's height is listed as in the manga and anime — by 3.7 meters. It's also the first giant mecha statue of its kind located outside of Eastern Asia. The franchise has been popular in Saudi Arabia, where a dubbed version of the anime played in many households.
Manga Productions, a Saudi Arabian company that produces animation, helped out in the process. The company had signed an agreement to advertise the franchise around the Middle East, and making a statue this big and record-setting  is a pretty good way of getting people's attention.
Source: SoraNews24
____
Danica Davidson is the author of the bestselling Manga Art for Beginners with artist Melanie Westin, plus its sequel, Manga Art for Everyone, and the first-of-its-kind manga chalk book Chalk Art Manga, both illustrated by professional Japanese mangaka Rena Saiya. Check out her other comics and books at www.danicadavidson.com.