New Dr. Stone Opening, Ending Themes Teased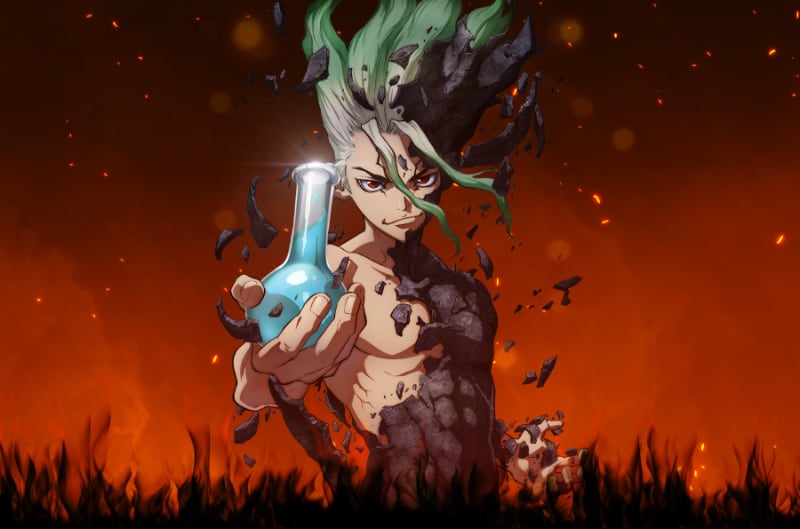 It looks like the new opening and ending themes for Dr. Stone are set in stone.
Those two songs are previewed in a new trailer for the second round of Dr. Stone episodes, starting October 4.
The songs, by the way, are "Sagenshoku" by Pelican Fanclub and "Yume no Yo na" by Saeki YouthK.
Pelican Fanclub is a rock band that formed in 2012. This is the first time they're contributing to an anime series.
Saeki YouthK has preformed themes for Yowamushi Pedal and Mr. Osomatsu, among others.
Crunchyroll is streaming the sub of Dr. Stone, while Funimation is streaming the dub. That dub is also airing on Toonami.
Here's how Crunchyroll describes the series:
Several thousand years after a mysterious phenomenon that turns all of humanity to stone, the extraordinarily intelligent, science-driven boy, Senku Ishigami, awakens. Facing a world of stone and the total collapse of civilization, Senku makes up his mind to use science to rebuild the world. Starting with his super strong childhood friend Taiju Oki, who awakened at the same time, they will begin to rebuild civilization from nothing… Depicting two million years of scientific history from the Stone Age to present day, the unprecedented crafting adventure story is about to begin!
Source: ANN