New Anime Wants to Know the Weight of the Dumbbells You Lift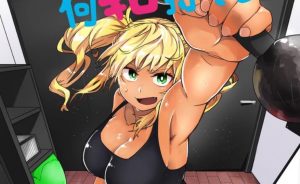 Hey, how many kilos are the dumbbells you lift? This may sound like a completely off-topic question, but it happens to be the roughly translated title of Danberu nan kiro moteru?, a workout comedy manga by MAAM and Kengan Ashura author Yabako Sandrovich. The series has been running since 2016, and now it has an anime adaptation on the way this summer.
In addition to the general announcement, a couple cast and staff members have been revealed. Ai Fairouz is on board as hungry high school girl protagonist Hibiki Sakura, while Sora Amamiya steps into the muscle-fetishizing role of another girl in Hibiki's grade, Akemi Souryuuin. The two run into one another in a nearby gym, and Hibiki eventually decides to join and work toward a better body with the help of a beautiful trainer named Machio.
The series will be directed by Mitsue Yamazaki (Monthly Girls' Nozaki-kun), with Fumihiko Shimo (New Game!) writing and Ai Kikuchi handling character designs at anime studio Doga Kobo.
There's also a teaser visual:
And a celebration illustration from the authors: