My Love Story is Sweet and Earnest without Pandering to Anime Clichés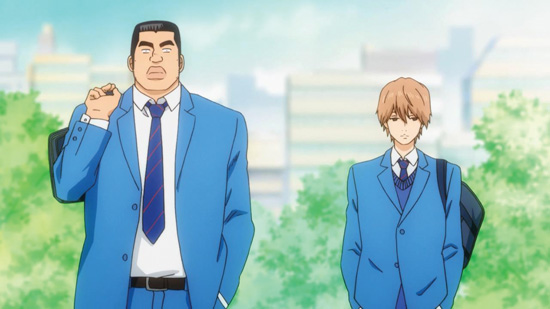 We've all got that one friend who simply isn't "traditionally" what women are into. Maybe he's got a bit of an annoying voice. Maybe he's too short. Maybe he's a little creepier than he intends to be. Not that any of that should matter to anyone actually looking to find true love, but we can all identify with those types of people. That's why My Love Story is such a relatable tale, and why it's one romantic comedy series you'll want to take a chance on, even if it's not your typical show. Tired of the prettiest men and women getting into the relationships their respective series dictate they should be in? This is the antidote for all that.
It's What's Inside That Counts
If you know the friend who seems to be perpetually out of luck with the ladies, you probably also know the ones who tend to be complete opposites. That's typical bishonen Suna, the foil to Takeo Goda—a pretty boy who usually ends up with all the ladies he sets his sights on. He's friends with Takeo, who looks like anything but a typical "good-looking" conventional manga protagonist. This wouldn't be an issue, except Takeo's love life is exceptionally bankrupt. Every single girl he ends up crushing on inevitably falls in love with the suave Suna, and it's tearing poor Takeo apart.
Except this time, things are finally going to be different. When a pretty young girl named Yamato comes into Takeo's life after he saves her from a subway creeper who's going around groping the women in the train car, he's nearly resigned himself to the fact that (as usual) Suna will end up bagging the girl. But Yamato only has eyes for Takeo. The catch is, he's a little too stubborn and dim witted to accept that anyone could ever be crushing on him the way he does on them. It's a heartwarming and often awkward tale of teenage love, except Takeo Goda is a little bit different than others.
For one, he's extremely tall and muscular and makes most of the male students at school look like positive dwarfs beside him. He's threatening and intimidating from his size alone, and that's not even counting his face. That's another story entirely. He looks a lot more like a gorilla or a some sort of super soldier than a high school student—no wonder it's hard for him to find dates!
But anyone who doesn't take the time to get to know him is missing out. Beneath an exterior that makes people feel as though they can't quite talk to Takeo hides an interior that's kind, friendly, and understanding. He's nearly selfless, doing things for others often before he thinks of doing them for himself. That's why it's so easy to be impressed by the relationships he ends up in. His personality and the fact that people still continue to be completely thrown off by the type of person he is really drives My Love Story, especially since we get to hear how Takeo feels.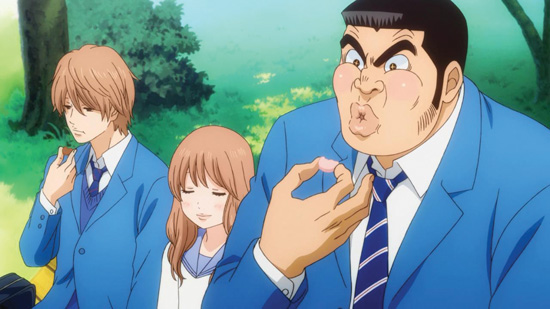 And then there's Rinko Yamato herself. After Takeo saves her from a lewd molester on the train, she's fallen in love with him almost completely. It's as if she sees nothing in his exterior appearance and sees straight through to the inside (We should all follow in her footsteps!). As an attendee of Koizumi Girls' Academy, she's a skilled cook and likes to create sweets and other baked goods. Sunakawa refers to her as a "nice girl" because he's surprised at how well she treats Takeo. Honestly, while she could have been a twist on the same "nice" character trope, she subverts it by being a genuinely likable human being rather than just a plot device.
Subverting Common Tropes
My Love Story could be one of the sweetest series you've ever laid eyes on, especially when it's revealed that Sunakawa doesn't have ulterior motives and isn't out to get Takeo—he genuinely wants to see his best friend happy, which is all too rare these days. It's refreshing to read a story where the "ugly" or undesirable character isn't treated like a joke or a throwaway cast member, and I found My Love Story to be pleasantly sweet and earnest without pandering to shojo tropes that I had feared would rear their pretty little heads simply judging by the cover.
Instead,  you get a breezy little story—Takeo's love story—that's both inspirational and encouraging to the underdogs in life. Like the manga it sprang forth from, it's drawn with a classical shojo style that harkens back to a simpler time. I'm looking forward to watching Yamato and Takeo develop as people and as a couple, because I'm sure there are some zany times ahead for the cute pair, especially when it comes to facing life together as two individuals from two completely different backgrounds.
In fact, that's why My Love Story triumphs in a world of romance and harem anime that too often force their characters to go head to head against each other. It would make sense for heroine Yamato to eventually fall for Sunakawa, but instead that's not the case at all. In fact, Sunakawa is still a cool and interesting character and there at every turn for the budding couple. My Love Story even gives Takeo another suitor in the form of Ai Sunakawa, Sunakawa's older sister. She saw the good in Takeo when they were kids, and as a result she harbors feelings for him. These and various other moments in the series reconcile your reason to give it a watch, especially when you think about all of the
different ways it could have gone and the path
it instead chooses to take.
Checking Out Other Volumes
Luckily, the anime series isn't where the story has to end. My Love Story began with a manga series back in October 2011, a shojo series that comprises 12 volumes. If you want to get into the game from there, the volumes are available to collect from Viz with some gorgeous cover artwork. Aside from the 24-episode anime series, there's also a live-action film from a
couple of years ago that really gives the anime
a run for its money.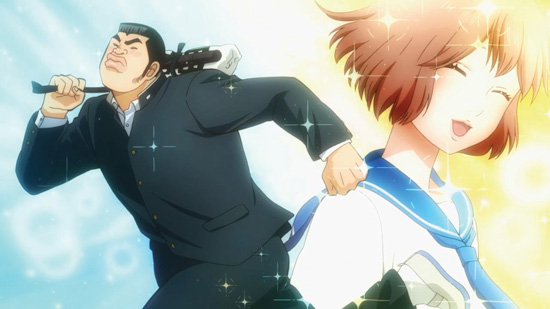 Live Your Own Love Story
My Love Story is one of the most refreshing series out there right now, from its premise to the way it approaches themes like loving what people are on the inside, not judging others for their looks, and what it means to truly be beautiful. It's a message that should be shared not
only throughout the anime and manga sphere, but the rest of the world as well. When you're enjoying its lighthearted fare and laughing along at the crew's antics, remember the core of what it's trying to teach.
My Love Story is available from Sentai Filmworks.