Meet Capt. Liliana in Queen's Blade: Rebellion Anime Trailer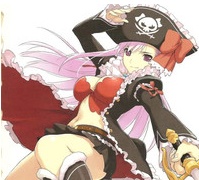 Are undead pirate queens your thing? If so, you might fall in love with Captain Liliana, the latest character introduced via a fresh trailer for Queen's Blade: Rebellion.
Media Factory previously posted a couple other character promos, so be sure to check those out here and here if you want to get more familiar with the series' busty cast.
Now, onto Liliana, the resurrected ghost ship mistress:
Queen's Blade: Rebellion starts its run on TV in Japan this April.
Source [Crunchyroll]