Mario-Themed Go-kart Tour Loses Nintendo Lawsuit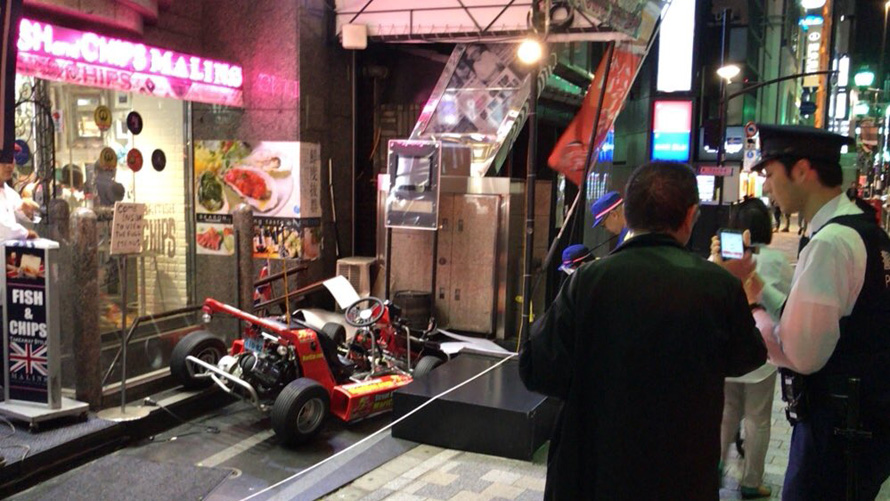 The scene of Roppongi's MariCar crash, as captured by
Twitter user begascalibur
Last year we reported on MariCar, a Go-kart tour service in Japan which rents Mario Kart-themed costumes to customers as they are lead on a driving tour around Tokyo. In characteristic fashion, Nintendo felt the need to protect their IP from damage and began a lawsuit last October.
On Thursday, Tokyo District Court reached a verdict against the go-kart rental agency. MariCar is barred from renting Nintendo-themed costumed to their customers, and must pay an undisclosed sum for infringing Nintendo's intellectual property rights.
In addition to infringing Nintendo's copyright, MariCar seems to have been a bit of a safety hazard. The spectacle of cosplaying go-karters was likely distracting for Tokyo drivers, and in turn, responses from passers-by seemed to be a distraction for the go-kart drivers. In February of this year a MariCar driver careened over the sidewalk and crashed into a Roppongi fish and chips restaurant. In May, another MariCar customer crashed into a bicyclist and drove off, only to be arrested and charged for hit-and-run.
Given the nuisance MariCar seems to have caused Tokyo residents, its not hard to imagine how it might actually harm the reputation of the Mario Kart brand. While it's too bad Mario Kart fans will no longer get to live out this experience, it might be for the best.
Source: SoraNews24