Main Cast Returns for Live-Action Gintama Sequel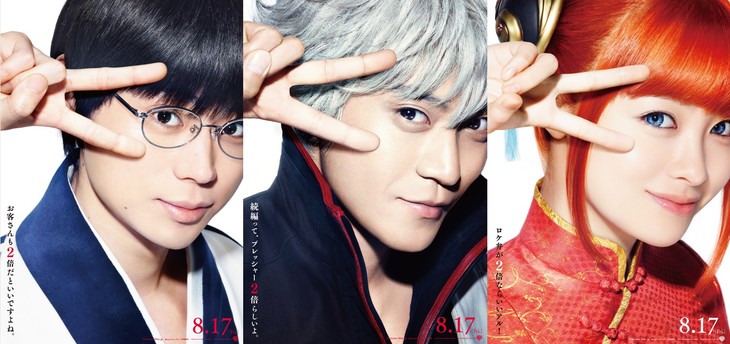 Last year's live-action Gintama film is getting a sequel, and all three main stars are back.
Masaki Suda, Shun Oguri, and Kanna Hashimoto are back as Shinpachi Shimura, Gintoki Sakata and Kagura, respectively, and posters revealed today show off their looks for the film.
It may have a cast, but it's still missing a title: as of now, the film is being referred to as Gintama 2, but it's been specified that's a working title only.
Three posters for the sequel were revealed today featuring the three stars. Each features a sentence incorporating the number "2."
Suda: It'd be nice if we got 2 times the audience.
Oguri: Sequels have 2 times the pressure.
Hashimoto: I hope we get 2 times the number of on-set meals.
The film is set to open in Japan August 17.
The first film, which came out last year, was recently released Stateside on home video by Well Go USA. Here's how they describe the film:
Set in the alternate Edo-period Japan, an alien race from outer space have invaded the country and taken control, forcing the once powerful Samurai to lay down their swords. Once feared as the White Demon , former samurai Gintoki Sakata, works as an everyday handyman until a master swordsman tasks Gintoki and his friends with finding a cursed sword to keep it from falling into the wrong hands. Packed with the sword-swinging sci-fi action and offbeat humor, Gintama is a journey through a visually-stunning universe where fantastical action lurks around every corner.
Source: Comic Natalie