Love After World Domination Drops Trailer, Announces Release Date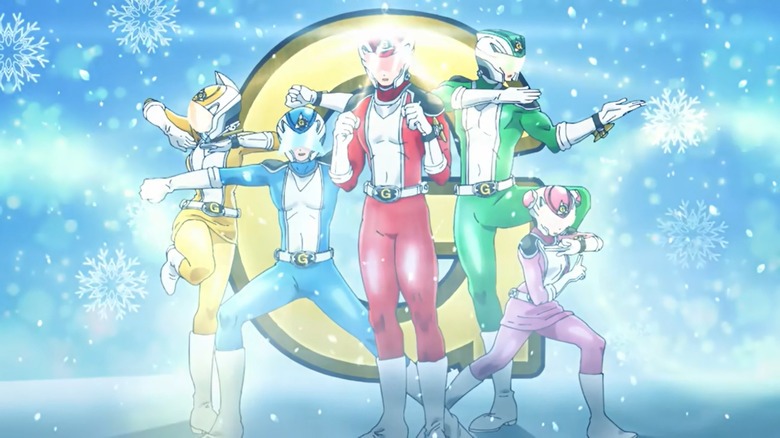 A trailer for the anime Love After World Domination has dropped, letting us know the show will debut on April 8. The trailer concentrates on the Gelato Five characters, so take a look!
Once it's out, it will stream on Crunchyroll. It had previously been said it would stream on Funimation, but that's changed with Funimation unifying under Crunchyroll.
Cast members have already been announced. Yūsuke Kobayashi plays Fudō Aikawa (Red Gelato), Ikumi Hasegawa plays Desumi Magahara (Princess of Death), Fumihiko Tachiki is the Narrator, Kana Hanazawa plays Kiki Majima (Princess of Magical Beasts), Hisako Kanemoto plays Kyōko Kuroyuri (Princess of Steel), Ayane Sakura plays Anna Hōjō, Kazuyuki Okitsu plays Hayato Ōjino (Blue Gelato), Nene Hieda plays Misaki Jingūji (Yellow Gelato), Junji Majima plays Daigo Todoroki (Green Gelato), Rina Hidaka plays Haru Arisugawa (Pink Gelato), Chafurin plays Professor Big Gelato, Tomokazu Sugita plays Supreme Leader Bosslar, Hiroki Yasumoto plays Culverin Bear, M.A.O plays Hellko, Chinami Hashimoto plays Urami Magahara, Nashiko Momotsuki plays Ranran, and Miyuki Sawashiro plays Kira Sanzugawa.
It's being made at project No.9, and directed by Kazuya Iwata, who previously worked on Cute Executive Officer. It's based on an original manga series by Hiroshi Noda and Takahiro Wakamatsu, and titled Koi wa Sekai Seifuku no Ato de in Japanese.
Kodansha publishes the manga in English, and gave this description of it:
"There are two sides to every coin…light vs. dark, good vs. evil, love vs. hate. Sometimes the line between the two grows thin…and it's so, so easy to cross. So it's no surprise that Fudo Aikawa, A.K.A. Red Gelato of the Gelato Five and hero to all people, just may have happened to fall for the villainess and member of the shadow organization Gekko, Desumi Magahara! But when opposites like these attract, there's more than a few obstacles to their love…! What's a pair like this to do?"
Source: ANN
____
Danica Davidson is the author of the bestselling Manga Art for Beginners with artist Melanie Westin. She is also the author of its upcoming sequel, Manga Art for Everyone, and the first-of-its-kind manga chalk book Chalk Art Manga, both illustrated by professional Japanese mangaka Rena Saiya. Check out her other comics and books at www.danicadavidson.com.