Live Spectacle NARUTO Stage Play Plans for Big Return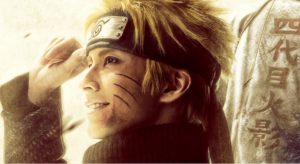 It's been two years since the Live Spectacle NARUTO stage play last took the manga by Masashi Kishimoto and brought it to the stage in style. Now it's getting ready to return with Live Spectacle NARUTO – Uzumaki Naruto Monogatari (The Story of Naruto Uzumaki), which will adapt the manga's 'Pain's Assault' and 'Five Kage Summit' story arcs when performances kick off this December.
The show will run at the Nihon Seinenkan Hall December 4-13, followed by performances at the Mielparque Hall in Osaka from December 25, 2021 to January 2, 2022. Writer and director Akiko Kodama is back at the helm for this one, and pre-sale for tickets begins at noon Japan Time on September 11.
Masaki Nakao (Yamato Kazakiri / Zyuoh Eagle in Doubutsu Sentai Zyuohger) takes over the lead role of Naruto, who has previously been played by Koudai Matsuoka since the first performances in 2015. Ryuji Sato is Sasuke Uchiha, Yui Ito is Sakura Haruno, and Yuuki Kimizawa is Kakashi Hatake.
Here's what Nakao had to say about getting the lead:
"After I was chosen for the role, I read the original NARUTO manga again. Unlike the previous experience, when I tried to understand Naruto's emotions and principles of action, I could feel his passionate heart and feelings for his friends coming into me. I appreciate the happiness of being able to play such a wonderful role. This series has been loved by people all over the world. As an actor and a fan, I would like to fulfill my role as the beloved Naruto. I'm looking forward to being in front of you all."
Digest video from the 2019 performance:
Via Crunchyroll