Like The Hunger Games? Check Out These Anime and Manga!
The Hunger Games: Mockingjay, Part 1 was released last month, and fans of the franchise are now forced to wait another year before watching the conclusion. Rather than spending the next twelve months rewatching the films, we here at Otaku USA Magazine have decided to advocate another course of action altogether: watch some anime.
To that end, we've compiled a list of anime (and manga!) titles that will hopefully appeal to you if you like The Hunger Games and tide you over until November 2015.
The most obvious title to start with is Battle Royale, and no, we don't mean the live-action film from 2000 featuring Beat Takeshi. When Hunger Games began getting popular, lots of people decried the series' similarity to the Japanese franchise created by writer Koushun Takami. We won't get into that, but it's worth mentioning that Battle Royale has had multiple manga adaptions, both based on the original novel and all-new spinoffs. A fifteen-volume manga adaption of the novel was written by Takami himself, and was released in the U.S. in the early '00s by TokyoPop. It's out of print, but used copies can be easily found on the usual websites. A newer spin-off, Battle Royale: Angels' Border, was a two-chapter spin-off that was released in 2012. The U.S. release, by Viz Media, came out in the June of this year and should be easy to track down.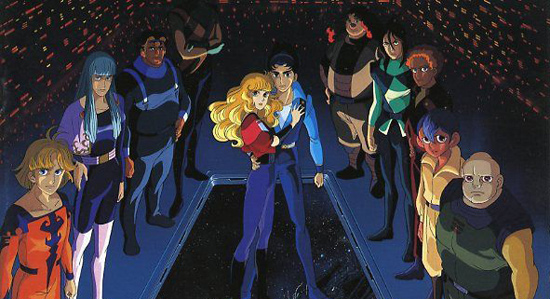 People have also drawn comparisons between The Hunger Games and William Golding's classic novel, The Lord of the Flies. A shoujo comic from the 1970s was also heavily influenced by Golding's novel, albeit in a sci-fi setting that may be a bit more comfortable for Hunger Games aficionados. Moto Hagio's They Were Eleven was about a group of ten students who found themselves on a derelict spaceship as part of their final test, except they soon discover there's an extra student among them and find themselves forced to uncover who the eleventh student is and deal with the ship's decaying orbit around a star. It's a bit like a cross between The Lord of the Flies and Star Trek's Kobayashi Maru scenario.
The manga, released in 1975, is compromised of only one volume so it's an easy read. Unfortunately, it last saw release in the U.S. years ago, as part of a now out-of-print collection called "Four Shōjo Stories" by Viz Comics. The DVD version of the 1986 anime adaption might be a bit easier to track down, but it's been out of print since the mid '00s.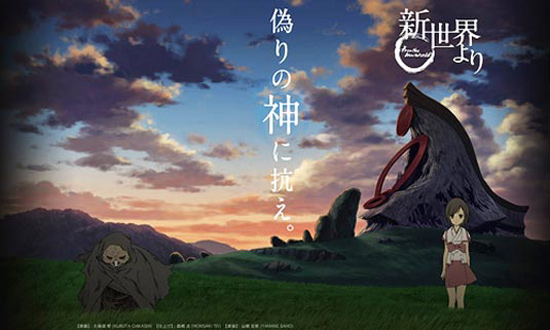 Switching gears to something a bit newer and still in print, fans of the more dystopian aspects of The Hunger Games would be advised to check out From the New World. Based on a light novel by Yusuke Kishi, From the New World is a decade-spanning story about a young girl born in Japan of the far future, now populated by people with magical abilities and killer rodents. As often happens with light novels, manga and anime adaptions were soon to follow. The manga is available in English from Vertical Inc., with the anime series available in a variety of formats from Sentai Filmworks.
If thumbing your nose at totalitarian states in a dystopian future is more your kind of deal, you'd be hard pressed to find a better title than Grey. Based on a manga by Yoshihisa Tagami that was published in the '80s, the 1986 anime film Grey: Digital Target follows the adventures of a man named Grey fighting against a system of city-states that sacrifice their citizens in combat. It's a post-apocalyptic action film that holds up pretty well despite its age, and coincidentally was directed by the same guy who directed They Were Eleven, Satoshi Dezaki, older brother of Osamu Dezaki.
The Grey manga is even better, and worth tracking down. The original single issues released by Viz in the late '80s feature a forward by the sci-fi author Harlan Ellison lending it some literary cred (presumably), and was later released in a two-volume collection in the '90s. The anime is long, long out of print and never saw a release on DVD in either Japan or the U.S., but if you can track it down it's worth watching despite the somewhat dated animation.
On the other hand, if you dig strong female protagonists like Katniss, anime has plenty of options. Recent film series like Mardock Scramble and Ghost in the Shell: ARISE combine future dystopias with female leads, as does the 2006 TV show Ergo Proxy. Mardock Scramble and ARISE both received mixed reviews when released, but at least in the case of ARISE, there's lots of quality Ghost in the Shell options thanks to the Stand Alone Complex TV series and Mamoru Oshii's films. Mardock Scramble, ARISE and Ergo Proxy all received recent releases and should be easy to pick up in the U.S.
As always, these titles are just a starting point, but are proof if you do a little research into the creators behind your favorite anime or manga, a gigantic world of entertainment will open up before you. Before you know it, you'll have so much to watch you won't even want to see Mockingjay, Part 2. Well, maybe.
Do you think we missed anything? Let us know in the comments below!
---
Related Stories:

– Like Game of Thrones? Watch These Anime!
– Down and Out in Hollywood: Failed Live-Action Adaptations
– For Love of the Game: A Baseball Anime Primer
– Gateway Anime: Everybody Starts Somewhere
– A Brief History of Unusual Sports Anime