Latest Issue of Otaku USA Now Available Digitally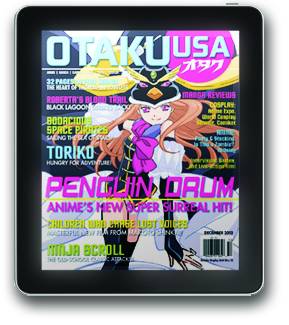 Those of you holding out to read the new issue of Otaku USA digitally need wait no longer. The December 2012 issue—which includes a cover story on Penguin Drum, plus features on Toriko, Ninja Scroll, and a bunch of reviews covering anime, games, and more—is now available to peruse on a variety of mobile devices.
You can purchase the Otaku USA digital edition via Apple's App Store, Google Play, and Pocketmags. Should you need any help, there's more instructions for downloading and installing on Amazon's Kindle Fire at the top of our home page.
In addition to the regular magazine goods, the digital version also features video content. This time around we've got the full first episode of the Ristorante Paradiso anime, based on the manga by Natsume Ono, as well as a stack of trailers. Enjoy!