KFC goes DBZ to promote new film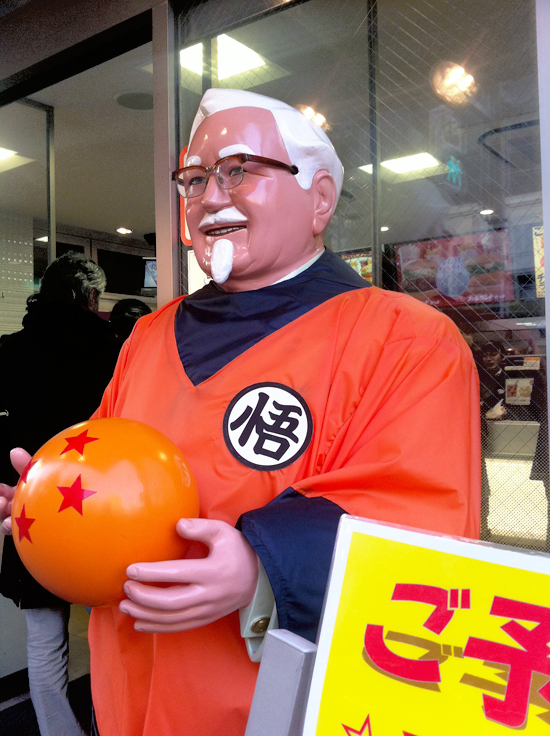 Children dream of wielding his power. Grown men pose screaming in their mirrors on Youtube, hoping to one day transcend humanity and unlock his Super Saiyan power. Son Goku is an icon.
And what better use for an icon than to shill some product, right? In the run up to the release of the new Dragon Ball Z: Battle of Gods film, Goku addresses the (presumably young) viewer:
"Let's go to Kentucky! Eating chicken'll make you strong!"
The ad then pushes the promotional "Strongest Set," with a drumstick, a side, and most importantly, a bottle that glows with the godly radiance of the Dragon Balls – or, if one is lucky, Goku's gleamin' Super Saiyan hairdo.
Goku joins a pantheon of heroes in shilling food to kids (and big kids too): Kinnikuman loved Yoshinoya beef bowls, the Super Sentai teams and Kamen Riders are forever pitching sausages. And of course, there was that Zeon tofu from a while back.
But back to KFC: your Otaku USA Japan Team made its way to the storied chicken friery to gorge – err, report on the promotion –  this past week.
Before one even gets through the doors, one is hit with a blast of east-meets-chicken awesomeness: at several KFCs throughout Japan, Colonel Sanders himself has been given a Super Saiyan makeover, complete with orange-and-blue DBZ training duds and an oversized Dragon Ball of his very own.
Once inside, to say KFC has been "decked out" DBZ-style would be a bit of an exaggeration, but there are various placards, posters and cardboard cutouts about advertising the new film, not unlike any Happy Meal promotion in the States.
The giveaway, though, a fairly high-quality metal bottle for carrying around water or other liquids, is more useful for adults than your average Happy Meal toy, provided you feel no shame carrying around a bottle with a big Dragon Ball on top.
As mentioned, there are eight variations on the bottle representing the seven Dragon Balls, plus the Super Saiyan Super Hair-topped model, reportedly the rarest of the bunch. So imagine our surprise when we received two of them! Though you're supposed to receive them at random, the employee behind the counter was kind enough to swap our extra Super Saiyan Goku with a Piccolo, so if you're in Japan and get saddled with a character you don't like, all is not necessarily lost (they're probably breaking the rules for you if you try this, so remember to smile and say thank you).
The relative usefulness of KFC's promotional product probably points to the pan-generational appeal of Dragon Ball, which is popular here with adults and kids alike. We certainly spotted plenty of both on our trip, including many hardcore fans who looked willing to take the caloric hit to collect all eight.
All this KFC silliness, remember, is to promote the upcoming Dragon Ball Z film, Battle of Gods. That film, which takes place between chapters 517 and 518 of the original DBZ manga, hits theaters here in Japan on the 30th of March, and you can expect our review shortly thereafter.
Update 4/22/13: We saw the movie in theaters, read our Dragon Ball Z: Battle of the Gods review!
This story originally ran in the 3/5/13 issue of the Otaku USA e-News email newsletter. If you're not on the mailing list, then you're reading it late! Click here to join.