INTERVIEW: Centaurs Manga Author Ryo Sumiyoshi on Myth and Philosophy
Ryo Sumiyoshi, who has worked on the Monster Hunter franchise at Capcom Co., Ltd., has debuted his first manga, the gripping historical fantasy Centaurs (see Otaku USA's review here). Sumiyoshi spoke to Otaku USA about his work, his philosophy, and what he hopes people take away from his manga.
---
What made you interested in manga? Please let us know if there is anything that inspired you to become a manga artist.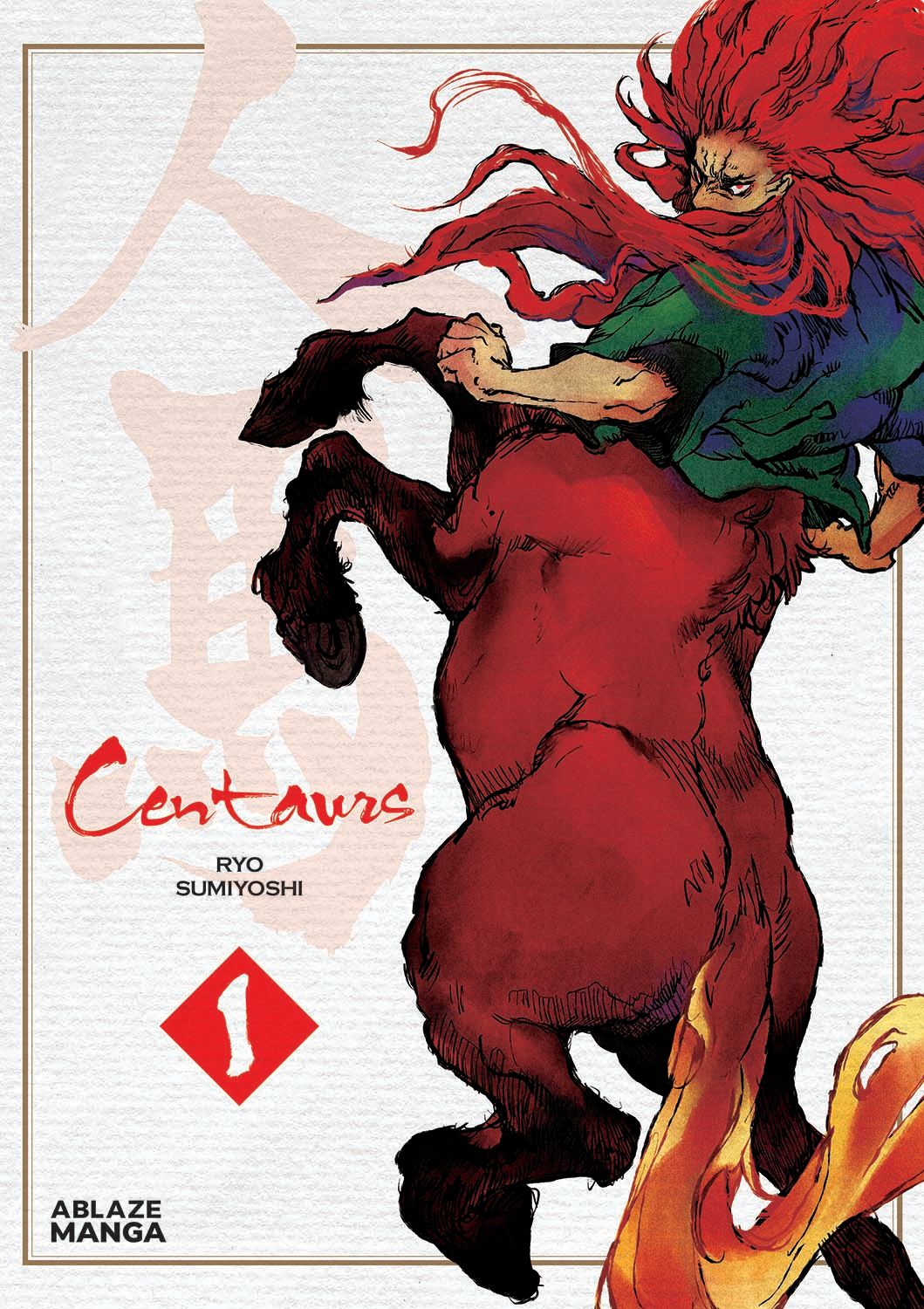 I never imagined that I would become a manga artist until I was approached by the editor of Centaurs with the offer that I could create a story from my characters.
I've always liked creating characters, and I was able to do whatever it took to create characters that were unique.
I also learned more about the world of manga along the way and that this is a world where I can draw "characters" with the most originality. I decided to do my best on this path. That was the start.
What aspects of Centaurs and mythology are you most interested in?
There's a lot of room for imagination in mythology, so you can say, "[A centaur is] a living thing." It's not absurd in that world. I'm also interested in the fact that there is a beginning and an end.
The story is set in medieval Japan. What elements of this era appeal to you?
From our point of view today, we actually have a surprising amount in common with the old days that we don't consider. I'm fascinated by the atmosphere of that era. For example, removing the arms of a centaur, destroying his dignity and his will to run away seems like an outrage, but is considered "natural" in the sense of having overwhelming power in your hands and mastering it. Cutting the tails and ears off dogs, plucking the tails of sheep… We not only do this to animals, but we also dig up the roots of trees, tear down mountains, and pick flowers to make our space a more comfortable place to live. There is no recognition that is "outrageous."
There is neither good nor evil in this world. There is only that "age" and there were people that "lived" during that era. Only in this can I feel the charm and hope.
Please tell us about the production process of Centaurs. How did you create the story and characters?
I focused on the era, life, and way of life as well as the characters. I was inspired while searching for the "strength" of those who survive in such a harsh world.
Tell us a little bit about your work at Capcom, especially at Monster Hunter.
At the time I joined Monster Hunter, I was working as a modeler, creating 3D models of the characters.
When I was drawing illustrations of monsters, the ideas began to flow, and from there I was placed in charge of the main work.
So, I participated in Monster Hunter as a monster designer and was the main designer in Monster Hunter XX. I was also doing 3D modeling at the same time, and I continue to hone my abilities.
This was your first published manga, how was the experience?
It's been a very gratifying experience. It also has been nothing but a surprise that a first-time manga and serialized work would be able to reach so many people.
Even now, this is the beginning of everything, and even though I am immature and clumsy, everything that I value most in my life is condensed here.
I'm still at the stage where I'm working on new projects, but I believe that it's a work that's all about horses and riders, and that I'll definitely be returning to many of the aspects first presented in Centaurs.
Is there anything you would like North American fans to know about yourself?
First of all, I would like to thank all of you who are reading this, the people who worked on translation and production, and the people who have supported my efforts. I would be happy if the people who've read my work could feel the impression that everything, not just humans, is simply living. Thank you. I hope that even one person can find this work, passed through the hands of others that have enjoyed it.
____
Danica Davidson is the author of the bestselling Manga Art for Beginners with artist Melanie Westin, plus its sequel, Manga Art for Everyone, and the first-of-its-kind manga chalk book Chalk Art Manga, both illustrated by professional Japanese mangaka Rena Saiya. Check out her other comics and books at www.danicadavidson.com.