Ikebukuro's Anime History
We've already covered Tokyo's well-known otaku hotspots like Akihabara and Nakano ad nauseum here at Otaku USA, but it's always worth pointing out that there are plenty of other areas Japan's capital city that ooze otaku cred. Ikebukuro, home of the third-busiest station in Tokyo, is just one of those places. Let's take a look!
As a major commuter hub on the circular Yamanote Line, Ikebukuro has sizable shopping areas and numerous department stores. It's not quite as fashionable as major stops like Shinjuku or Shibuya, but it's still a major shopping destination. Beyond the big-name shopping, the outlying areas around Ikebukuro feature narrow side streets hosting all manner of neighborhood ramen shops, bars, love hotels and smaller shops. 2010's Durarara!! was set among the narrow side streets of East Ikebukuro, and made a considerable effort to be accurate to the area. It's a grittier part of Tokyo, to be sure.
Also in East Ikebukuro is the imposing Sunshine City Mall, housed inside a skyscraper. The huge complex features multiple levels of stores, an aquarium, dozens of restaurants and Shonen Jump's amusement park J-World. While most of the shops inside Sunshine City aren't particularly noteworthy, it's home to one of the few, if not the only, Toys R' Us locations in the city, which boasts an impressive selection of robot toys and model kits. Also in the shopping mall is Moe Garden, which despite the name, deals largely in Studio Ghibli goods and is one of the best spots in Tokyo to grab Totoro tchotchkes outside of the Studio Ghibli Museum.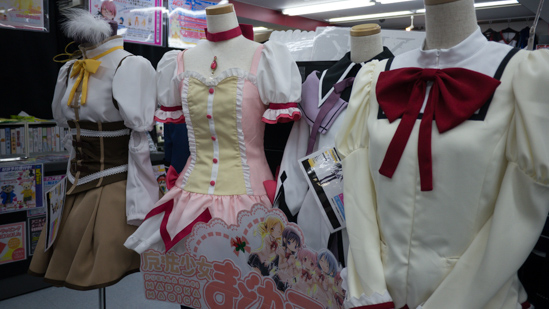 A block away from Sunshine City (or on top of Sunshine City if you want to get technical — as the complex is spread out across a couple of city blocks and partially subterranean) is Otome Road, the so-called "Akihabara for fujoshi." Most of the stores here cater towards that very specific fujoshi niche, which may be a good or bad thing depending on your interests. There are a couple of general focus otaku shops, but they don't offer anything that you couldn't find elsewhere. We've covered both Otome Road and Otome Road's Animate before for Otaku USA in more detail, so check out those posts if you're curious.
On the other end of the otaku spectrum, Toyota's massive Amlux showroom used to be nestled between Sunshine City and Otome Road. A showcase for nearly every car Toyota was selling in Japan, it was a good destination for car otaku, although it recently shut down. While the building still stands, you'll have to head to Odaiba's Toyota Megaweb showroom for your car fix these days.
On the other side of the train tracks, right outside Ikebukuro station's north exit, you'll find another neighborhood boasting narrow streets and hole-in-the-wall bars that are such a big part of Tokyo's charm. The ironically-named Romance Street area boasts lots of bars, karaoke parlors, hostess clubs and love hotels. There's nothing particularly otaku-related but it's a fun area and worth wandering through at night, if you're in the area.
Just south of that is Ikebukuro's West Gate Park, which, unsurprisingly, was the setting for the the Ikebukuro West Gate Park manga and live-action drama series from the early 2000s. Written by Ira Ishida and illustrated by Sena Arito, the manga is a remnant of a time, years ago, when Ikebukuro was seen as a much hipper, trendier place. The area was well-known as a destination for nampa, but whatever glamour was once attached to the area has long since disappeared.
A short walk farther west from West Gate Park is an area of bars that once was home to a bar called Harukiya, and was based on the bar of the same name from the manga and film Akira. Despite the name and some Akira memorabilia on the walls, it kind of did its own thing and was known for serving up some exotic meats like kangaroo. Sadly, Harukiya closed down in 2011 but the website is still online and has pictures of the place.
While Tokyo might not be the constant barrage of anime and manga goods that some people make it out to be, there's plenty of otaku spots throughout the city. Ikebukuro definitely isn't a "must see," but it serves as a reminder that there's plenty of interesting stuff to see outside of Akihabara and the typical tourist spots. One of Tokyo's greatest strengths is the variety of its neighborhoods and the things you'll find if you get off the beaten path and explore, so get going!