How to Organize the Pokémon Wedding of Your Dreams in Japan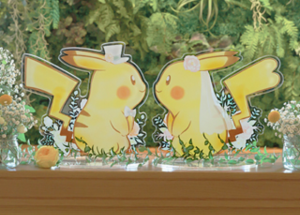 If you're a really big fan of Pokémon, you might eventually want to tie the critter-collecting franchise into your nuptials. Japanese wedding planning company Escrit has you covered in the event of true catch 'em all mania, because they're now offering Pokémon wedding plans all throughout Japan.
With stylish chapels located in Tokyo, Osaka, Yokohama, Nagoya, Sendai, and Okinawa, you can be pretty flexible with your travel arrangements to Japan. As for the wedding itself, Escrit will happily give it the Pokémon touch it deserves in every aspect, from the food to all the surrounding décor.
And yes, the plan even comes with the option of a Pikachu wedding cake.
According to Escrit, the Pokémon Wedding Plan special also includes a "wonderful performance," but you'll have to take a wild guess as to what exactly that entails. Reservations are currently being accepted online, with appointments starting on February 27, and you can see some sample images below.
Source: Escrit via SoraNews24