Hooters is Promoting the New Sonic the Hedgehog Game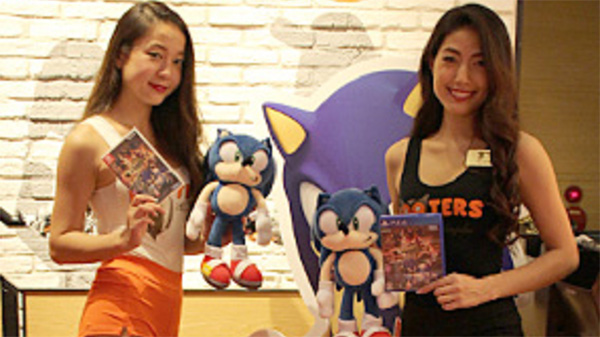 Once upon a time, Sonic The Hedgehog was a character you'd expect to see cross-promoted at restaurants like McDonalds with a line of kids meal toys. In fact, according to Sonic Wikia, Sonic had two different promotions at McDonalds in 1994, as well as three different tie-in campaigns running from 2003 to 2006 at McDonalds in various parts of the world.
Times have changed. We always knew Sonic was edgy, but was he that edgy?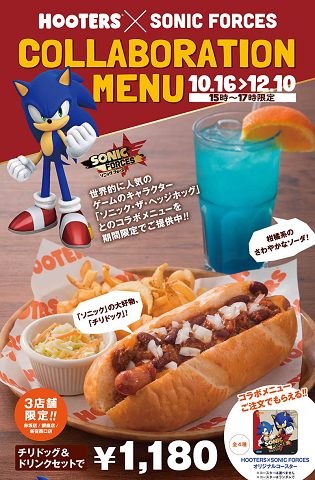 In Japan starting October 16th, the new game Sonic Forces is promoting at boobilicious (sp???) sports bar chain Hooters. The second shock in that sentence might be that there's another new Sonic game launching this year besides Sonic Mania. Well there is; Sega hasn't given up making 3D Sonic games yet, and Sonic Forces is the first one since 2013's Lost World. This may be more of a successor to 2011's Sonic Generations though, since it features the Genesis-era Sonic appearing alongside Dreamcast-era Sonic, with a mix of sidescrolling and free-roaming 3D levels.
The centerpiece of Hooters' Sonic Forces promotion is a Sonic-themed chili dog combo meal. It comes with a Sonic coaster, and a Sonic-themed non-alcoholic citrus soda beverage. Sorry guys, if you want alcohol with your videogame cross-promotions, you'll have to turn to the Mortal Kombat franchise. I hope you liked McDonalds Breakfast better before it went all-day (why???), because the Sonic chili dog meal is only available between 3pm and 5pm. The Hooters girls will also periodically be performing a special Sonic dance set to a song from Sonic Forces called "Fist Bump".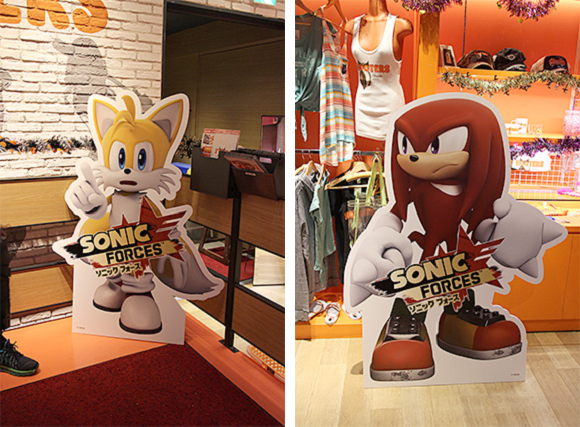 Hooters is running their Sonic promotion now through December 10th. If you're traveling to Japan in November, you could hit the Ghibli Museum to see exclusive Totoro follow-up Mei and the Kittenbus in the morning, and then grab a chilidog for lunch at Hooters in the afternoon to wrap up your Otaku day.
Source: SoraNews24