Hideaki Anno's Studio Khara Celebrates Its 10th With Huge Exhibition [Photo Report]
It's been 10 years since Hideaki Anno, creator of Neon Genesis Evangelion, co-director of Shin Godzilla and all-around otaku genius, left Gainax and founded his own studio, Khara.
To celebrate its 10th, Khara has pulled out all the stops for a massive exhibition in Harajuku, Tokyo, giving viewers a behind-the-scenes look at the Evangelion rebuild films, Shin Godzilla and more.
Khara, which was founded in May 2006, was originally created to produce the Evangelion rebuild series, the first of which debuted the following year. Since, its major credits have been Evangelion films 2.0 and 3.0, but the studio has also made its mark on the live-action world with the short "Giant God Warrior Appears in Tokyo" and cooperation on Shin Godzilla, plus the 2014 launch of the Japan Animator Expo.
Finally, the studio, run by the famously otakuy Anno, is part of a non-profit organization dedicated to preserving historical anime and tokusatsu artifacts, such as models from Ultraman and cels from the original Mobile Suit Gundam.
Aside from all the art and props pictured below, the exhibition also featured an exclusive short film, "Ooki na Kabu," which traced the history of the studio (and Anno's bout with depression following the completion of Evangelion 3.0) in animated form. Hopefully the short gets a wider release at some point.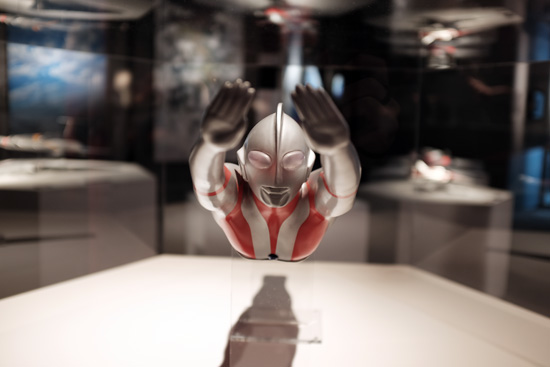 This portrait of Anno was done by his wife, manga artist Moyoco Anno, in 2010.
"To Hideaki Anno: congratulations. From Hayao Miyazaki, Studio Ghibli.""
Khara means "joy" in Greek, and this exhibition is a good reminder of all the joy Anno and his team have brought to fans over the past decade. Here's looking forward to more Evangelion, Animator Expo shorts and whatever else Anno has up his sleeve.
The Studio Khara exhibition runs until November 30 at Laforet in Harajuku.
Matt Schley is OUSA's man in Japan. Say hi.