Gurren Lagann Getting Turned Into… A Play?
Now that Kill La Kill's over, it feels like the internet's busy drawing comparisons between it and previous Hiroyuki Imaishi/Kazuki Nakashima joint and perennial fan favorite Gurren Lagann. And hey, wouldn't you know it, they're turning good ol' GL into a play! With live actors and everything!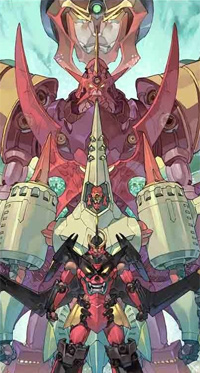 Wait, what? Yes, I was a little taken aback by this news, too, but bear with me here. They're calling it Tengen Toppa Gurren Lagann Engeki-hen (it's a pun), and according to the production committee's official twitter account, the play will feature "things that couldn't be expressed in the TV show through animation" which… we are talking about Gurren Lagann here, right? That's a heck of a bold claim.
They've also announced that IZAM, an actor and musician who used to belong to visual kei group Shazna (remember visual kei, guys?), will be scripting and producing the play, which I'm honestly not sure how to parse. He's done a fair amount of stage work, and acted in a production last year called +Gold Fish at the Tokyo Metropolitan Theatre Play House, but this is looking like the first time he's scripted and produced. Hard to say how it'll turn out, and there's precious little concrete information available at this time (the official site is almost completely empty as of this writing).
Auditions are currently underway, and they've already announced a date for the premiere: October 22-26, at the Zenrousai Hall Space Zero theater in Tokyo. We'll keep you posted on any further developments.
Sources: Hachima Kikou, Anime News Network