Gurren Lagann Films Hit American Theaters in January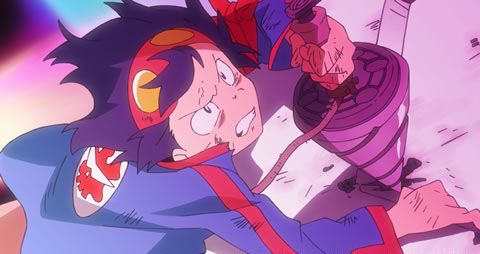 Gurren Lagann, the classic giant robot series from the legends who would go on to found Studio Trigger, was reedited into two films back in 2008 and 2009. Now those films are heading to theaters in North America this January.
This info comes via a Gurren Lagann and Kill la Kill anniversary panel at Anime NYC, where it was also revealed the films will be in 4K (there will also be 4D screenings, in case you've ever wanted to know what Gurren Lagann smells like) and available in both sub and dub. That's significant because the films have never been dubbed in English before.
The first film, Gurren Lagann the Movie –Childhood's End–, will play on January 16 and 17, and the second film, Gurren Lagann the Movie –The Lights in the Sky Are Stars–, will play on January 23 and 24. Tickets go on sale December 8.
Here's how Aniplex describes the series:
In the distant future, mankind has lived restlessly underground for hundreds of years, subject to earthquakes and cave-ins. Living in one such village are two young men: one named Simon who is shy and naïve, and the other named Kamina who believes in the existence of a "surface" world above their heads. The destiny of these two starts moving drastically when the ceiling of their village falls in, and a gigantic "Gunmen" and a beautiful girl named Yoko, wielding a superconductive rifle, come from the surface. Together, Kamina, Simon and Yoko ride the mecha "Lagann" that Simon digs out of the ground, and fly up to the surface!
Source: ANN