Godzilla Magic Card Name Changed, Too Close to Coronavirus for Comfort
Godzilla and a bunch of his kaiju friends and foes are coming to the world of Magic: the Gathering in the new Ikoria: Lair of Behemoths expansion, but not every aspect is appropriate for the current climate. One card that's being altered specifically is the Spacegodzilla, Death Corona card, which doesn't sound so great in the midst of the COVID-19 (coronavirus) pandemic.
The Corona Beam has no connection to the virus, of course; it's just the name of Spacegodzilla's powerful energy breath attack. Still, the card—which is known as Corona Beam of Death in Japan—is in the process of being changed. According to Wizards of the Coast, it's too late to change printing in time for the first run, but the card will be removed in reprints.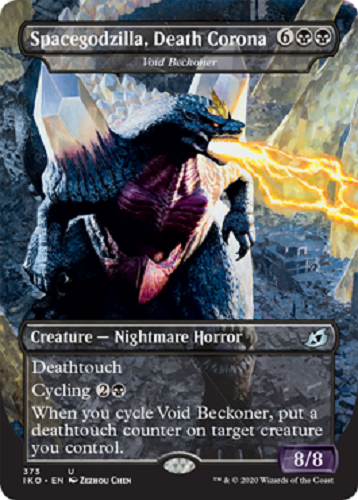 The new name for the card is Spacegodzilla, Void Invader, a change that's reflected online in Magic: The Gathering Arena.   
Via SoraNews24