Go for the Gold
If you've ever looked at Arabic-speaking facebook groups and forums about anime, you know the truth: anime and manga are crazy popular in the Middle East. The graphic novel series Gold Ring, the story of a boy named Sultan, a falcon named Majd, their friendship and adventures, bears similarities to Pokémon, Shaman King and any number of classic shonen manga—except that the boy is in a kandura and his mother is in a hijab and the location is the Arabian Peninsula. Gold Ring (Siwari adh-Dhahab in Arabic), created by United Arab Emirates author Qais Sedki and drawn by the Japanese mangaka team known as Akira Himekawa, is the first ever "Original Arabic Language Manga" published in the Gulf Coast Countries, and—if its creators' dreams come true—the first of a series of manga-style graphic novels aimed at Arabic-speaking readers.
Gold Ring is Qais Sedki's first work as a mangaka, although Sedki (like most children in the Middle East) grew up on a diet of translated anime on Arabic-language TV, and he 'gets' shonen manga like few other writers outside of Japan. When Sedki, an IT professional, approached the Japanese publisher Shogakukan with a pitch for a manga, Shogakukan introduced him to Akira Himekawa, the artist(s) who would bring Gold Ring to life. Himekawa, best known as the creators of Viz's Legend of Zelda: Ocarina of Time manga, are actually a team of two award-winning female mangaka who have been working in shonen manga for years. At the moment, Gold Ring is only available in Arabic (although you can order it from Amazon), but English and Japanese translations are in the works. The story of Sultan, Majd and their journey to compete in the Gold Ring falconry tournament with rivals from around the globe, it's one of the best shonen manga of the last two years.
Akira Himekawa (shown in these rare photos taken at the German anime convention AnimagiC 2010) and Qais Sedki generously agreed to answer a few questions about Gold Ring. For more information, check out the expanded interview with Qais Sedki in the latest print issue of Otaku USA!
Akira Himekawa Official Site:
https://www.himekawaakira.com/
Gold Ring Official Site: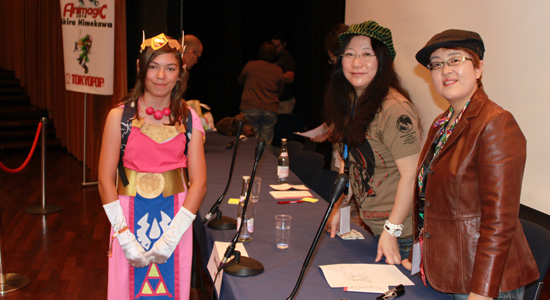 AKIRA HIMEKAWA
Otaku USA: How did you meet (and end up working with) Sedki-san?
Himekawa: The editorial department of Shogakukan's children's learning magazines, where we had been serializing the Zelda manga, gave us a call. They said, "We received a request for a manga which will be published in Dubai, and we are looking for a mangaka who can draw the book. We think you are the most suitable artists for the project. May we introduce you to our client?"
That's how things got started. The request we were given at the time was "to draw a single-volume manga about Arabic falconry, with a folktale feel." We thought that might fit with our style well, so we accepted the offer. But later, the actual story ended up being very different (laughs).
A.Honda (one of the pair of artists who uses the group pen name "Akira Himekawa") was in the hospital for treatment of a broken leg when we received the request. Sedki-san was kind enough
to visit us at the hospital in Aichi. That was our first meeting, and we were deeply impressed with his kindness. He explained the concept of Gold Ring to us. After that we had several meetings in Japan.
Otaku USA: How did you work with Sedki-san to produce the manga? Did you work through a translator? Did he write a full text script?
Himekawa: Shogakukan Square arranged for us to have a translator at our meetings. After that, the staff at Shogakukan Square translated the storyboards and the rough draft, and sent them to Sedki-san when he needed to check them. And again, the staff translated our questions to Sedki-san and his answers to us. It's a process that takes time and effort . Gold Ring isn't just a work by Sedki-san and us, but also a collaboration with many Japanese staff members.
What Shogakukan Square gave us at the beginning was a simple plot that we couldn't even call a "story." I remember the basic plot was, Sultan is a young boy whose friend plans to make money by selling a falcon that he caught in a trap in the desert. Sultan has pity on the falcon, and he buys it from his friend in order to let it go. Also, the rules of the "Gold Ring" falconry tournament, its game style, and Sultan's rivals were all decided on. Sedki-san's biggest concern was the "Gold Ring" game itself and how Sultan wins the games. But there wasn't enough to make a full manga, so we rounded out the characters and gave them life with the settings we were given. We concentrated on the drama, and turned it into a real story.
Originally Sedki-san had written out seven chapters (i.e., seven matches) and the first proposal was to do all those matches in a single volume. But if we had done the entire story in one volume, we wouldn't have had time to do anything more than follow the plot. But the mangaka has an instinct to make manga as interesting as possible, so we expanded the first part of the plot (from Sultan's meeting with Majd the falcon to passing the tournament qualification test), and started the manga with the ending of another tournament, in order to improve the pace. As a result of spending the whole first volume drawing what was supposed to be just chapter one, we need six more volumes to finish the whole story. We dug our own graves (laughs).
For the upcoming second volume, Sedki-san wrote more script materials with detailed dialogue, but it's our job to make it perfect as a manga. It's our work to put life into the paper. Sedki-san also gave us a lot of research material, such as photos of Bedouin who live in the desert, copies of pages from books about falconry in the United Arab Emirates, and one of the hoods that they put on the heads of the falcons.
We follow the same translation-and-revision procedure for the rough draft, and even after we finish the final art, we revise it when we need to. In normal Japanese manga, you draw a chapter at a time, about 30 pages at once. But in the case of Gold Ring, we had to spend a lot of time on each step because we had to draw 140 pages at once. We often almost shed tears as we draw (laughs).
Otaku USA: Have you ever been to the Emirates?
Himekawa: We have never been there, so we had to use our imagination based on the photos and such. Since we have never actually seen this stuff with our own eyes, there were some parts we were afraid whether we drew correctly. The target readers are the people who actually live in UAE, so we can't draw anything that may look wrong to them. When Sedki-san gave us his seal of approval and said, "it's great!", we were finally satisfied that we did a good job.
Otaku USA: Your drawings of the falcons are really great. What did you use for reference?
Himekawa: Thank you. Drawing falcons and animals are our field of expertise, that's the big reason why we accepted this job. This was our first time drawing Saker Falcons, so we used the photos Sedki-san gave us for reference to draw the close details and their feathers.
Otaku USA: How long did it take you to draw volume 1?
Himekawa: It was 2006 when we accepted the offer and we delivered the final work to Sedki-san in April 2008,so it took two whole years to complete it. Since we were working on other projects at the same time, we needed extra time to finish it.
Otaku USA: How was it a different experience drawing a manga for a non-Japanese audience?
Himekawa: This was our very first experience drawing manga for a non-Japanese audience. It was more difficult to draw manga for people who have different language and culture. If the people in UAE find a tiny shade of meaning which feels unnatural for their culture, it can really get in the way of their enjoyment of the manga. And we were told that the people in UAE weren't yet accustomed to reading manga, so we needed to pay extra attention to make it understandable for people who had never read manga before. But manga is an expressive style, which can deliver its charm even without words in any country in the world. This project gave us the opportunity to discover that fact all over again.
Otaku USA: What was the most fun thing to draw in Gold Ring?
Himekawa: It may sound like a contradiction, but we enjoyed drawing Arabic culture, the landscapes and the national costumes.
Otaku USA: What was the most difficult thing to draw?
Himekawa: In the beginning, we were really at a loss how to draw the falcons' feathers.
Otaku USA: Is the appearance of Hassan (one of Sultan's mentors who helps him to enter the Gold Ring tournament) based on Sedki-san's?
Himekawa: At first we used a man in a clothes reference photo as the model for Hassan, but as we draw, more and more he came to resemble Sedki-san spontaneously (laughs).
Continued in Part 2…