Game of Thrones Becomes Anime in French Fan Project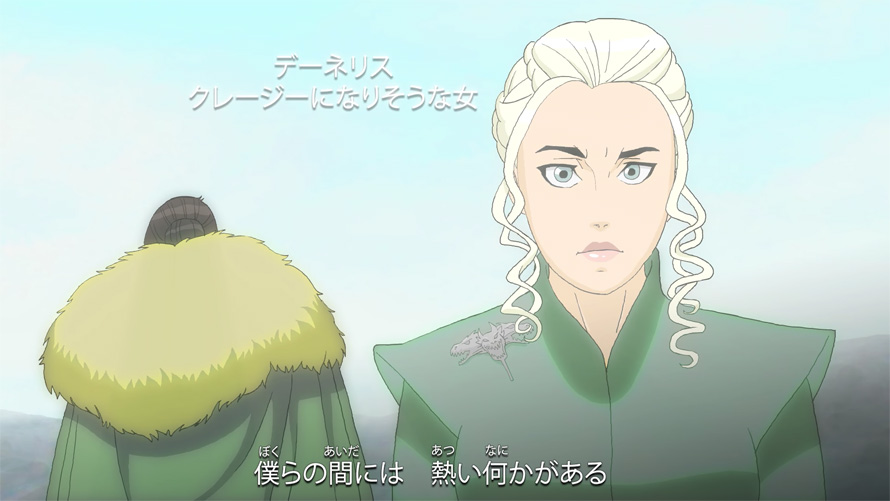 Anime inspired by western medieval fantasy is pretty big right now. Sure, it's partly just a side-effect the tangentially-related "stuck in an MMO" genre being even more popular, but between more pure fantasy series like Seven Deadly Sins and the new Berserk, and less futuristic takes on the "virtual world" trope like Grimgar of Fantasy and Ash, there's a lot of anime out right now about knights and wizards fighting orcs, undead, demons, dragons and the like.
Thus, it was only a matter of time before someone tried to make a connection between anime and western fantasy shows. Anime-style fanart of Game of Thrones has been around for some time (some examples, like Joscomie's, have been making the rounds across fan sites since at least 2012) but now a frenchman by the name of Malec has made the idea an animated reality:
The soundtrack to the video was created by French musician KronoMuzik by combining motifs from Game of Throne's actual theme song with chord progressions inspired by J-rock. There's an entire making-of video on the process here. It doesn't explain where the Japanese lyrics and vocals came from, but a youtube commenter took a stab at translating them:
"Between us, there is something warm Burning LOVE or HATE, I don't know, I don't know TAKE MY HAND I said something I didn't know well, but WINTER HATING LOVE Winter is coming, but I'm not afraid Singing, burning, becoming FIRE I don't feel the cold WINTER HATING LOVE Blood will be linked but SEX IS FREE Singing, burning, becoming fire, Tiring, ending GAME OF GAME OF GAME OF THRONES!!!!!"
I gotta say, the whole "SEX IS FREE" line seems kind of inaccurate to the source material, particularly given that one of the series' most influential villains gained all his money and power by running a brothel, but it's still an impressive effort.
It can be tough to appreciate all the visual detail while things are moving, so here's a couple more still shots:
This isn't the first time a Western property has been given an anime treatment by a fan. British animator OtaKing77077 has made headlines a few times in recent years for making fan animations like his Star Wars/Tie Fighter piece.
Readers looking for more dark fantasy anime should check out our 2014 article "Like Game of Thrones? Watch These Anime". It's an oldie but a goodie.
Source: SoraNews24