FUNimation to Stream Ninja Slayer Anime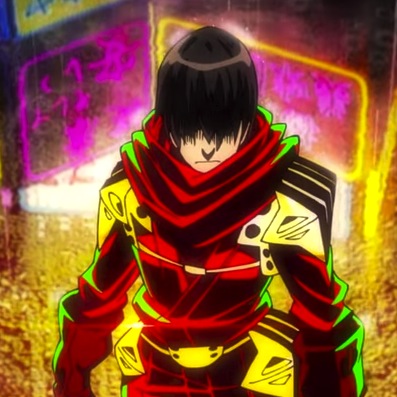 FUNimation added another big title to its spring anime lineup, this time with the streaming and home video rights to Ninja Slayer, which is coming from the thus-far-always-awesome Trigger (Little Witch Academia, Inferno Cop, Kill la Kill). The launch date and time for the simulcast are still TBD, but FUNi posted some information on the show to tide everyone over in the meantime. 
As the legend goes, the Ninja Slayer novel series was translated from an original English series by a pair of mysterious authors, Bradley Bond and Philip Ninj@ Morzez, both on the run from real-life ninja. Don't take our word for it, though, here's the official synopsis of the story that came about while on the run:
Ninjas. Karate. Sushi. The dystopian cyber underworld of Neo-Saitama is ruled from the shadows by an intricate web of drugs, yakuza gangs, and evil syndicate ninjas wielding fearsome "karate." In a sea of the blood of his enemies, a lone maverick stands. NINJA SLAYER is a ninja who kills other ninjas in the name of ninja vengeance. A former salaryman whose family was killed by evil ninjas, Ninja Slayer cheats death and casts away his past to embrace the dark, mystical NINJA SOUL, a mysterious spirit that grants him great power in his quest for revenge. But will this bloodthirsty spirit consume Ninja Slayer before his enemies are all "dead on departure?" Domo. I'm Ninja Slayer. 
Here's one of the previously-posted trailers:
---
Related Stories

– Ninja Slayer Anime Streaming Plans Announced
– Ninja Slayer Gets Animated in New Promo
– First Ninja Slayer Production Report Posted
– Ninja Slayer Now Has a Ninja Trailer
– New Ninja Slayer Promo Hits Youtube