Frederik Schodt Gets Big Award For Introducing Manga to English Speakers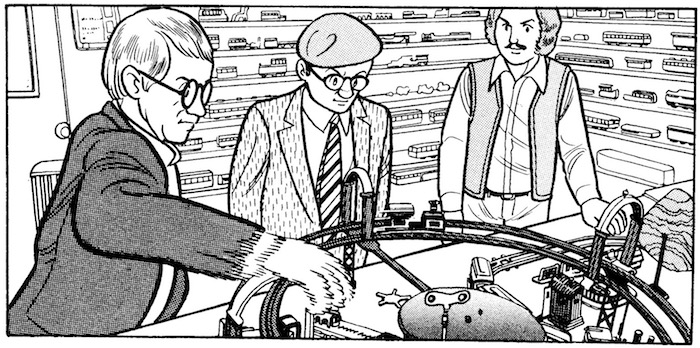 Cartoon Crossroads Columbus (CXC) has announced it's giving its second annual Tom Spurgeon Award to translator, writer, and Osamu Tezuka interpreter Frederik L. Schodt. Schodt is the man on the far right in the above manga drawing (from Stone Bridge Press' The Osamu Tezuka Story by Toshio Ban), standing next to Tezuka.
A press release explained the criteria for receiving this honor:
"The Spurgeon Award honors those who have made substantial contributions to the field of comics, but are not primarily cartoonists. The award is named after Tom Spurgeon, a writer, historian, and champion of comic arts who served as CXC's founding executive director. The award is open to retailers, distributors, journalists, editors, publishers, and others."
Lucy Shelton Caswell, who is the co-founder of CXC and the founding curator of the Billy Ireland Cartoon Library & Museum, remarked in a statement, "Frederik Schodt's 1983 book Manga! Manga! The World of Japanese Comics was the first significant book to introduce English speakers to Japanese comics. He also made major contributions to the field through his translations into English of such works as Astro Boy by Tezuka, Ghost in the Shell by Shirow and The Rose of Versailles by Ikeda."
Caitlin McGurk, who is the chair of CXC's award committee, commented, "The current boom in readership of all varieties of comics is indebted in part to the influx of young readers who were introduced to comics via manga. "This is traceable to Schodt's efforts in introducing English speakers to Japanese comics."
"I have spent most of my life doing work related to currents of thought flowing between Japan and North America," Schodt explained, "with a particular interest in manga, writing about them, doing translations of what I consider worthy works, giving talks on manga, and interpreting for Japanese and North American artists."
His other books include Dreamland Japan: Writings on Modern Manga,  The Astro Boy Essays: Osamu Tezuka, Mighty Atom, and the Manga/Anime Revolution. Check out Otaku USA's recent interview with Schodt.
Source: Press Release
____
Danica Davidson is the author of the bestselling Manga Art for Beginners with artist Melanie Westin, plus its sequel, Manga Art for Everyone, and the first-of-its-kind manga chalk book Chalk Art Manga, both illustrated by professional Japanese mangaka Rena Saiya. Check out her other comics and books at www.danicadavidson.com.