Evangelion Fans plan to pierce Real Moon with Spear of Longinus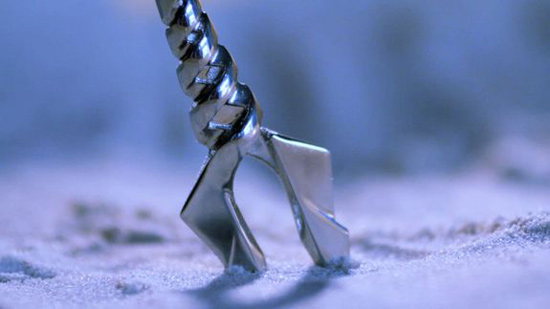 Premiering 20 years ago, Neon Genesis Evangelion triggered a fan boom in Japan and became a mega-hit around the world.
But for one group, the world is not enough. Their plan is to replicate a scene from the original series and plant a replica of the series Spear of Longinus on the moon. Yeah, for real.
The group is the "Project to Pierce the Moon With the Spear of Longinus" (pretty straightforward name) and this week they unveiled a crowdfunding site to help reach their goal of 100 million yen (about $850,000).
If successful, the project will launch a 9.4-inch replica of the series' spear aboard a rocket launched in America sometime between 2015 and 2016.
The project was introduced at a press conference by model and actress Natsuki Katou (Kamen Rider Ryuki), cosplaying as Evangelion's Misato, and real-life astronaut Naoko Yamazaki.
"I thought with the 20th anniversary of Evangelion there would be some kind of big event, but to actually go the moon?! What a shock," said Katou.
Yamazaki also revealed she's a big fan of the series and currently watches it with her daughter.
The deadline for crowdfunding is April 5. As of this writing, the project is 7% funded by 328 participants.
The project's catchphrase is "from anime to reality."
Commented Evangelion creator Hideaki Anno: "I'm shocked, happy and full of gratitude that this wild idea I had is becoming a reality. I'm praying for the success of the project."
Source: ANN, Official Site
---
Related Stories:

– Universal Studio's Life-size Evangelion 4D Attraction
– Universal Studio's "4D" Attack on Titan Attraction
– Life-size walking Gundam planned
– Life-Size Goku and Luffy Statues Battle in Japan
– Godzilla invades Tokyo Midtown