Domino's South Korea Offers Halloween Pokémon Pizza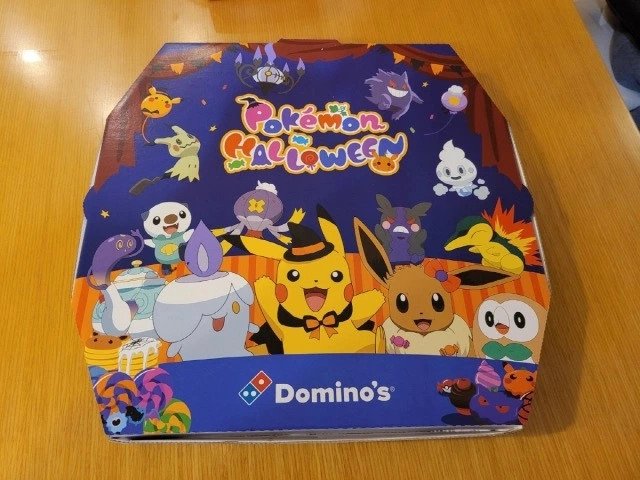 With The Simpsons' Death Note parody in Treehouse of Horror and South Korea's new Halloween Pokémon Pizza, it seems people all over the world are enjoying Japanese franchises for their holiday. Domino's South Korea has unleashed a Pokémon pizza for All Hallows Eve, and the point seems to be that the pizza can put on a costume instead of just looking like a regular pizza.
If you're in South Korea and able to purchase of one of these pizzas, they come in a special Pokémon Halloween-themed box. Open it up, and the pizza is designed to resemble a Poké Ball, and that's the costume part. Pepperoni is there for the red color, and bulgogi (a type of Korean beef barbecue) creates the black color. A large a Pokémon Pizza costs about $14.00, so, in other words, it costs about $14.00 to get one, because the pizza is not available in sizes small or medium.
But customers don't just get the box and the pizza. They're also gifted with a set of cards that combine the themes of Pokémon, Domino's and Halloween.
These specialty pizzas became available in South Korea on October 14, and today, Halloween, is the last day people will be able to purchase them. It's unclear if this is a one-time thing or if it will be back next year in South Korea.
Pokémon is quite popular in South Korea, and it turns out Pokémon themed food is, too. Earlier this year Pokémon baked goods were selling like crazy in the country. Partial credit for these sales goes to BTS, because member RM talked online about wanting more Pokémon goodies to eat.
So here's a question . . . if this Halloween treat does well in South Korea, will it get picked up by Domino's in other countries as well?
Source and Images: SoraNews24
____
Danica Davidson is the author of the bestselling Manga Art for Beginners with artist Melanie Westin, plus its sequel, Manga Art for Everyone, and the first-of-its-kind manga chalk book Chalk Art Manga, both illustrated by professional Japanese mangaka Rena Saiya. Check out her other comics and books at www.danicadavidson.com.