Mangacaster: An Interview with Ed Chavez, founder of DENPA
This article originally appeared in the April 2020 issue of Otaku USA magazine, on stands now and available online. This is the extended version of the interview, enjoy!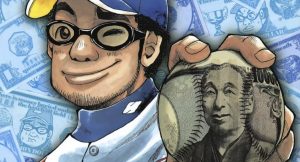 Ed Chavez knows manga like no one else. Starting out as a podcaster and blogger (@mangacast on Twitter), his expertise quickly attracted attention in both America and Japan. For years, he edited manga for CMX, Seven Seas, Kodansha Japan, Vertical and FAKKU. He even inspired the lead character of Yûji Moritaka and Keiji Adachi's baseball manga GuraZeni ("Money Pitch").
Then in 2017, Chavez and Jacob Grady co-founded DENPA ("frequency" or "connection"), a new manga publisher whose first books came out in 2018. In a North American manga market dominated by the American branches of large Japanese publishing houses, DENPA stands out as a small publisher whose acquisitions come from personal taste: from the surreal art-manga Invitation from a Crab, to the kink of Pleasure and Corruption, to the cooking manga Today's Menu for the Emiya Family and more.
Chavez took a moment out of his busy schedule to answer some questions.
You've been working professionally as a manga editor for about 15 years, including overseas in Japan. How did you get into the business?
It's a long story, but I really started off as a fan blogging and podcasting about the subject. After writing for a few publications, including Otaku USA, I eventually was asked by a couple of manga publishers to do some editing and marketing.
Did you ever dream you'd go from fan to editor to publisher? What's left on your manga bucket list?
I honestly never expected to even get into the industry. I never applied for a position. I was simply asked if I was interested to work with places like Seven Seas, CMX, Vertical and Kodansha Japan.
That said, once I went on to Vertical, I came to wonder what it would be like to run a publishing house. I wore a lot of hats for them—sales & marketing director, translator, publicist, acquisitions—so the roles were not foreign to me. Knowing how to manage them all without supervision and then delegate many of those tasks was a bigger challenge, and one that I still work on to this day.
What's left on my list…? I've already kinda appeared in a manga, so that's been covered. I guess it would be publishing some of the titles I grew up on. A number of them are already available in English from other publishers, but there are still a few out there waiting for translation. That said, I'm not sure if my personal tastes would be very popular in English. I have… unique tastes.
How important are personal connections to artists when you're licensing manga?
Honestly, for me connections are extremely important… My connections historically have been with publishers more than with comic artists. While I do make an effort to meet my mangaka, for the most part I tend to negotiate licenses with their publishers or their agents. So maintaining connections with everyone involved in the process is key.
And having had years of experience doing acquisitions at my previous employer helped speed up the development of DENPA. I don't think we would have titles like Kaiji, Heavenly Delusion, Emiya Family or Inside Mari if not for the relationships I had made over the years.
You've acquired several titles from lesser-known manga magazines, like Maiden Railways from the shojo/josei magazine Rakuen. Are there still a lot of cool smaller manga magazines out there in the shadow of the big ones like Shonen Jump?
There are. And even though a number of manga magazines have shut down over the last five years or so, new magazines are still popping up. Many of those new magazines cover more modern topics like yuri, BL or josei. Some might be very genre specific. But in most cases these new mags come from small or indie publishers, and finding them in stores can be a struggle.
Magazines like Hakuensha's Rakuen or Kadokawa's Harta are not so well known outside of specific manga circles, but the content they put out is visually unique and more importantly feature narratives that are thoughtful and innovative. So for me, these magazines are a priority when I look to acquire new titles, mainly because I want to do my part to keep these publications around.
Traditionally, the backbone of the Japanese manga industry has been print magazines, but lately, there's been several high-profile manga which originated as webcomics. Are you looking at any webcomics for licensing?
We've actually licensed a few webcomics already. Today's Menu for the Emiya Family runs on Kadokawa's online service. Invitation from a Crab is also often released on Hakusensha's online platform. And The Girl with the Fierce Eyes (coming from DENPA in May 2020—Editor) is currently available via Pixiv.
Manga has changed a lot over the years and yes, digital distribution has been one of the biggest factors. Since the Great Tohoku Earthquake Japan has really changed its distribution priorities for manga. After the quake and tsunami, shipping lines were damaged. Printing presses and paper suppliers also experienced hardships. So a few publishers quickly moved to push their manga, especially their magazines, to online and mobile services.
Now, with services like Pixiv, more publishers are moving their series to the web. Mangaka are even making their debuts there as well as on places like Twitter. So while magazines are still in print, more and more manga starts online, whether on a platform run by a publisher or an art-themed website like Pixiv.
For me the digital change has been a tough one to figure out. I don't have trouble finding titles from smaller manga publishers or lesser known manga magazines. But given how massive the internet is, I feel it is increasingly difficult to follow each web platform and their release schedules. Knowing that a print magazine comes out on X day each week or month is easy, but many web services release titles on an almost daily basis.
Are most successful Japanese webcomics today organized as 'web magazines' with the kind of editorial pressures associated with print magazines, or are they published more on private platforms and blogs? 
This varies. Some are self-published online and then released in print by a publisher. These days most of the ones people know of tend to come from Pixiv. Pixiv can host an artists' individual works. But it also collaborates with publishers to host their webcomics too.
A few of the big publishers have their own web platforms. These tend to have a more "magazine" feel to them. Comics come out on a more standardized schedule and in many cases the artists that work on these services may have more publishing experience as well. The level of editorial direction for webcomics also varies from publisher to publisher.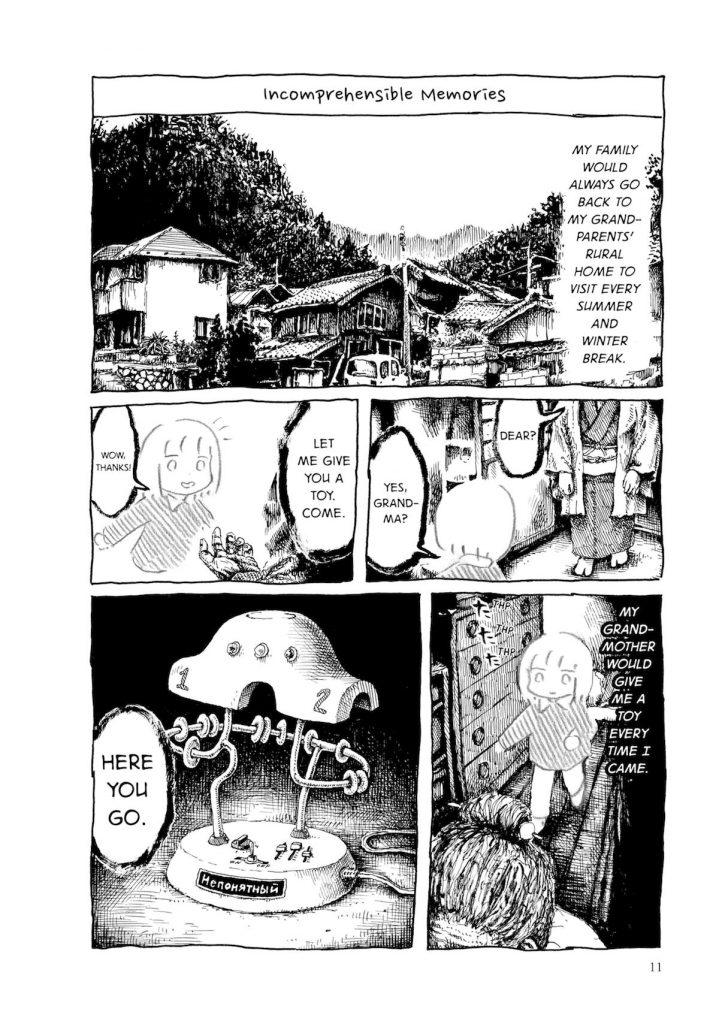 One of the coolest titles you're publishing is An Invitation from a Crab by panpanya, basically an underground manga. Can you tell us more about it?
Crab is extremely indie. For the most part it is a collection of essays and self-published dojinshi, along with a couple chapters that were published online for an alternative josei magazine that only comes out eight times (?) a year. It's not something that Western manga fans knew about. Honestly, most Japanese manga readers and publishers wouldn't know about this title. But within the DENPA family, our staff and our freelancers, panpanya is something of a superstar.
panpanya is a doujin event regular. They also draw art for the Japanese pop-culture store Mandarake. Their readers are people who go to TacoChe (an indy bookstore in Tokyo—Editor) or manga readers that don't read manga as disposable media. panpanya readers want to experience manga through a new fresh lens that changes as frequently as the manga scene itself changes.
So as someone who dabbles in doujinshi, indie manga and high quality productions, Crab just felt like something that had to be in our lineup. Acquiring it was an experience. The Japanese publisher was quite tickled by our interest. But they also were a bit confused as to why we would want to acquire a title like it. Crab has never been translated before. It wasn't receiving offers either. And suddenly a brand-new publisher rolled on in asking for a doujin collection to be one of their launch titles… Yeah. Very DENPA.
You're also publishing Gambling Apocalypse Kaiji, which I believe is your oldest acquisition, dating from 1996. How did you choose it?
Kaiji is another very DENPA title. When I suggested it to my production manager and financial officer, they were both immediately on board as longtime fans of the franchise. But what really made this series an ideal fit for us was the gambling element. DENPA on its own is a big risk. None of us are currently even certain that this project will pan out, so we are constantly battling self-doubt, finances and market pressures. And Kaiji is all about that. Not just the story either! Working on a series this old and with such a deep and rich history within anime culture has its own issues.
Kaiji as an acquisition was a fun process. When we brought it up to Kodansha they were pleasantly surprised by our offer. I got a sense that we were the only publisher crazy enough to work on that title. So it was no surprise to me that the initial licensing process went by quickly.
Final approvals have been slower than expected, which created delays to start, but I feel that we'll be getting on track soon with its release schedule. You really can't tell with older books and files until you work on them, though.
How would you describe DENPA? Do you think of yourself as an 'indie manga' publisher? Or is that a meaningful distinction today?
We're a small publishing house looking to share the breadth of what manga is in Japan and should be in the West. I wouldn't call us an indie house cause while we aren't owned by a Japanese company, nor do we only release unknown titles or artists. Fate/ is a known property, for example. Gundam is one of the backbones to anime and manga. Kaiji is beloved in Japan and is from one of its best-known and best-selling artists.
You've acquired a lot of titles that seem like big catches for a new publisher. How did you pick up a big Kodansha title like Inside Mari? 
Connections…and timing…and a lot of luck.
Inside Mari was obvious for me. Having released Flowers of Evil to great fanfare, I knew it was about time for a print edition of Mari. The biggest hurdle there was the fact that the series was published in Japan by Futabasha. I have had relations with them in the past, but I had never picked up something that they had already licensed to someone else (to Crunchyroll—Editor). So there were question marks from the start. But thankfully, Futabasha was more than happy to work with someone to get a print edition released.
Our edition of Inside Mari has new lettering and design choices. It has a re-edited translation. We included all of the extras that were not included in the Crunchyroll release and we added the casing and French-flap illustrations/designs. 
How was Today's Menu for the Emiya Family, a Fate/Stay title, possibly not licensed by anyone before?
Honestly, I have no clue. The anime is stunning! It's easily one of the best-looking series of 2018 and it's also part of a franchise that has been blowing up globally.
We were pleasantly surprised that TAa's manga was still available. Even more so because we were able to work on her fun recipes.
Tell us about a cool upcoming DENPA title.
If I were to pitch a new release it would be Heavenly Delusion by Masakazu Ishiguro. It's a post-apocalyptic tale that visually is super-stylish and has touches that remind me AKIRA.
Heavenly Delusion takes place in two worlds. One world is a hell-scape that is almost void of most modern conveniences and technology. The population has been decimated possibly by monsters but maybe by even something more sinister. Among the few people that remain are two youngsters that are looking for a place called "Heaven."
The other setting is a school where robots are commonplace. So much so they are even instructing classes and providing discipline in the cafeteria. The kids are carefree and healthy and know nothing about whatever apocalypse may have happened in Tokyo. And within their walled garden, they are totally free to express themselves athletically and artistically without fears of what adults may say. It looks like heaven, but there's something strange about this sterile environment.
These two settings may seem worlds apart, but something is drawing the two together. Kids in both places are awakening to the knowledge that there might be something out there. What that might be and where is the mystery…
Your books are available on Kindle, but you say you're working on an in-house digital platform as well.
Yeah, our books are available via Kindle, Apple, Kobo, GooglePlay and Nook. But one thing that has puzzled me about the US market is how ebook sales are still such a small piece of the market.
In Japan, digital and paper sales are almost 50/50. And given how there are so many options over there that does make sense to me. For whatever reason, in the USA manga in eBook form only makes up around 15% of the overall manga market. That number is surprisingly low to me and in an effort to remedy that situation we have decided to sell our eBooks on our own as well.
We thought that by improving the customer experience more manga readers will pick up our manga, and that extends to our eBooks. By using our platform, readers would be able to work more closely with Japanese authors and their licensors, and the creators will get a greater cut of each transaction. Our eReader will feature a number of reading options that the reader can customize for their optimal reading experience. Competitive pricing also goes a long way, as we understand that manga can be expensive, especially when you're dealing with longer series. And we want to experiment with things like subscription plans where readers can subscribe to series and new volumes will pop up in their queue when they are available. Web original content is something we want to attempt too. But that last one will really depend on how willing our Japanese partners are to try that.
The DENPA reader is a big project. We can't share all the details yet, but if it does find an audience we think it will be a game-changer.
If fans want to support your work, beyond buying it, what can they do? 
Review our books. Unsolicited reviews help create improved awareness, as we can post those things on places like Amazon and B&N. Written reviews help a lot more than podcasts or videos cause quotes can be easily confirmed and we might even put them on future releases/reprints!
Sharing and tagging us in social media goes a long way also. We're so new that while our reach isn't too bad currently, we often go to events and have people come up to our booth exclaiming how they didn't know we existed… despite them knowing the titles we publish. •
___
KANI NI SASOWARETE by panpanya ©panpanya 2014. All rights reserved.
EMIYASANCHI NO KYOU NO GOHAN Volume 1 ©TAa 2017 ©TYPE-MOON ©Makoto TADANO 2017
Tetsudo Shojo Manga by ASUMIKO NAKAMURA ©ASUMIKO NAKAMURA 2011
KAIJI ©2018 Fukumoto Nobuyuki