Death Note Causes Panic in New Hampshire School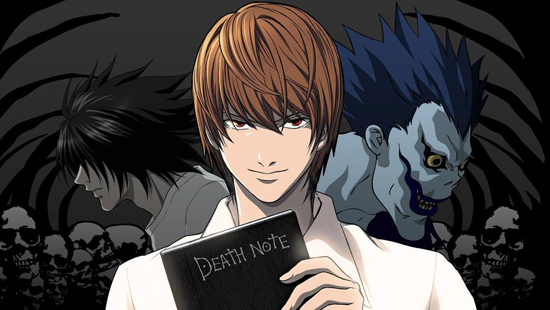 New Hampshire parents are raising concerns after a "death note" book was discovered at Nashua High School North, naming 17 students with citations of how they wronged the anonymous author and the dates and times in which they allegedly would die.
The notebook was of course inspired by the manga and anime Death Note, in which protagonist Light Yagami possesses a book that kills anyone who's name is written in its pages. Danielle Charest, the parent of a student decreed in the book to die because of "a dirty look in second grade, 8 years ago" wrote to school faculty upset that parents weren't notified sooner.
"My daughter doesn't want to return to school and is afraid for her safety both at school and outside of school…I REFUSE to take this lightly. School shootings start with a list of people who have wronged an individual… ​I don't want Nashua to be the next Columbine because we didn't take a death threat list seriously.​"
Never give a second grader a look like this. It could prompt death threats 8 years later.
School officials notified parents of the incident last Friday, but authorities believe that the author of the book did not intend to follow through on any of the threats described in his/her(?) notebook. Says Deputy Chief Michael Carignan:
"An investigation was opened and continues. The student and their parents were interviewed, and were very cooperative and open about what was going on. It was determined that no criminal threatening, nor any other crimes were committed…At no time did either the police or school feel that any students were in immediate danger. Please understand that we are well aware of the recent incidents of school violence and take all possible threats very seriously."
This was actually the second time this year Death Note-inspired threats caused a panic in U.S. schools; a 7th grade student in Griswold Connecticut was suspended for possession of a similar notebook in June, and Anime News Network counts nine incidents in the past eight years where a student has been disciplined or even arrested for making "death notes". In Beijing, Death Note has been banned since 2007 and described by officials as an "illegal terrifying publication".
With all the government attention this is getting, writing death notes is beginning to look a lot like the SWAT'ing phenomenon, except instead of getting the victim of your prank arrested, it just gets yourself arrested. Fun times.
Source: Comic Book Legal Defense Fund