Bibliophile Princess Anime Reveals More Cast, Theme Song Details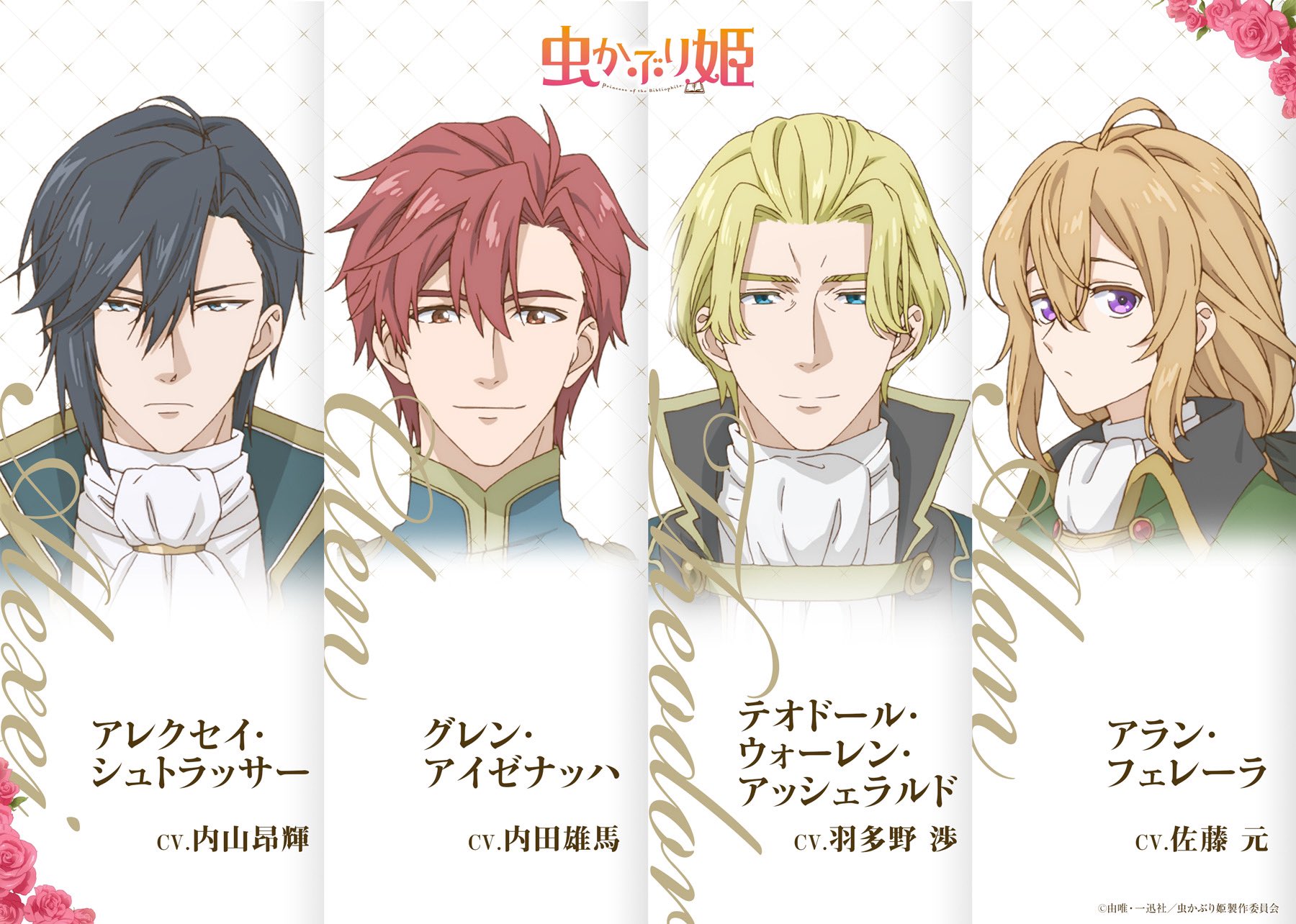 Following up on some details in early June, the Bibliophile Princess anime—which adapts Yui and Satsuki Shiina's light novels of the same name—has revealed more information. In addition to four new cast members, you can see who'll be handling the opening and ending themes for the series below.
For the new cast pictured above, from left to right we have Koki Uchiyama (Miyamura in Horimiya) as Alexey Strasser, Yuma Uchida (Kyo in Fruits Basket) as Glen Eisenach, Wataru Hatano (Gaku in IDOLiSH7) as Theodore Warren Ashlard and Gen Sato (Ko in Call of the Night) as Alan Ferrera. 
The anime's opening theme has Yuka Iguchi performing "Prologue," while the ending theme is Kashitaro Ito on "Kawabobyoshi." 
Bibliophile Princess is set to premiere this October.
Tarou Iwasaki (sweetness & lightning) is directing the adaptation, with Mitsutaka Hirota (Rent-a-Girlfriend) on series composition and Mizuka Takahashi (chief animation director for Persona 3 the Movie) handling character designs.
J-Novel Club publishes the light novels in English and sums up the story:
When book-loving Lady Elianna spots Prince Christopher—her betrothed in name only—consorting with another noble lady, she realizes the recent rumors must be true. The prince has someone he truly loves, which means the annulment of their engagement is both inevitable and fast-approaching. What she doesn't realize is that this is merely a surface ripple—one of many where the truth runs deep, in a conspiracy surpassing her imagination! 
Via Crunchyroll News