Ariana Grande Plays So Much Pokémon She Got an Eevee Tattoo
How much do you love Pokémon? There are plenty of folks out there who love it enough to get a tattoo of one of the series' many pocket monsters, but not many of them are as famous as Ariana Grande. One of the biggest pop stars on the planet recently had a day off during which she played Pokémon: Let's Go, Eevee for 15 hours, and she loves the adorable creature so much she made it a permanent addition to her body.
Grande first showed her new Eevee tattoo off on Snapchat, and the LA-based tattoo artist responsible, Kane Navasard, also offered a peek on Instagram. In addition to her Eeevee ink, Ariana Grande also has a tattoo of Chihiro from Hayao Miyazaki and Studio Ghibli's Spirited Away.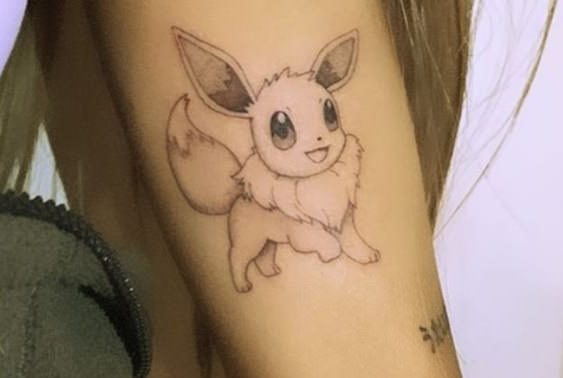 honestly. yesterday i had a day off and i played pokémon let's go eevee for fifteen hours. honestly.

— Ariana Grande (@ArianaGrande) January 13, 2019
Considering the fact that Grande is set to co-headline Coachella in April, followed by performing as the headliner at Lollapalooza 2019, she might not have as many days left to play Pokémon: Let's Go to her heart's content.
Source: Variety via Anime News Network