Anime Japan 2014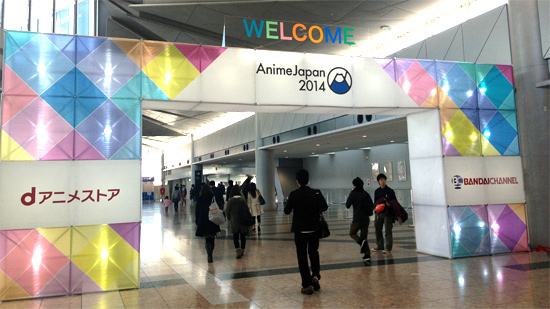 The former Tokyo International Anime convention teamed up with Anime Contents Expo this year to put on what is arguably the world's biggest anime exhibition, Anime Japan 2014.
On Sunday, March 23rd, Tokyo Big Site in Odaiba hosted thousands of visitors, all eager to see their favorite anime characters come to life and looking for the scoop on the best new upcoming anime. The line that snaked around the building looked daunting, and the staff's apologetic "ganbatte kudasai" (do your best, please) after he pointed out where we should queue up was less than reassuring. But after only a half-hour wait—much shorter than expected thanks to superb organization—we were inside.
The main floor was divided up among some of Japan's most well-known production companies such as TV Tokyo (Pokemon, Naruto, Bleach), and Toei Animation (One Piece). Crowds swarmed the floor, racing to get their hands on free swag like folders and playing cards before they ran out, and clamoring for pictures with models of popular characters—one of the highlights of the convention. It was so strange: we knew they were just actors in costume, but it was hard not to get caught up in the excitement of seeing classic figures in real life. Naruto from Naruto, Monkey D. Luffy from One Piece and Conan from Detective Conan were some of the most notable appearances.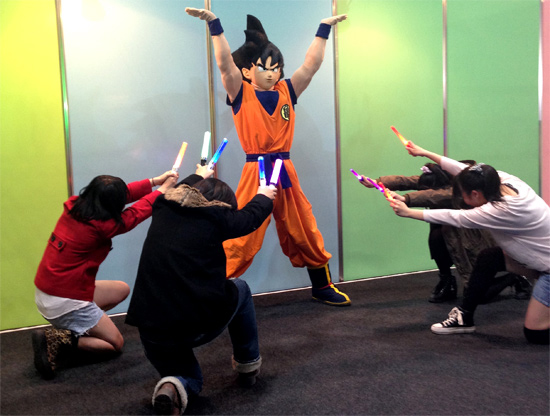 Standing in line to take a picture with Dragon Ball Z's Goku, we frantically searched on our smartphones for the perfect pose, something that would destroy the 20 or so "kamehamehas" and "spirit bombs" that had come before us. Finally we found it: the salute: So simple, and yet so classic. We inched closer to the front of the line. Another kamehameha, spirit bomb, spirit bomb, a super-saiyan power-up pose, and then us. We got our phones ready… only for the staff to tell us we needed some kind of ticket, and that we couldn't get a picture without it. Lame, and just one example of how the language barrier got in the way.
Aside from the exhibitions, there were Q&A sessions with animators, and seminars for those looking to get into the business, but for non-native Japanese speakers, these could be taxing. It's much more intimidating to ask a question in a language you don't speak fluently, and difficult to hold up the seminar to ask for clarification because you couldn't understand the answer.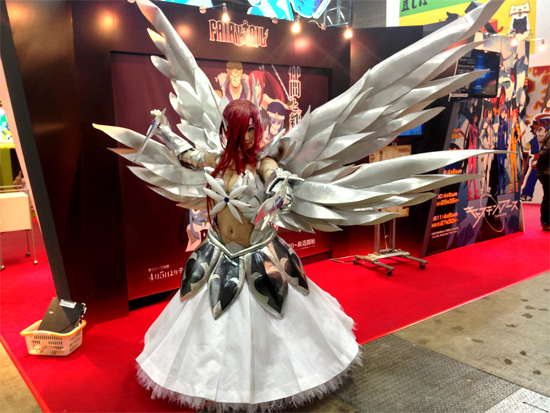 But despite the language issues, there was still a lot to take in. A standard, 1500 yen ticket bought access to the main floor, where exhibits, videos and model cosplayers reigned. Aside from that, the red, blue and green stages held more events, like J-pop concerts and appearances by famous voice actors. However, access to those not only cost more, but tickets were limited and restricted by a lottery.
And of course, one of the best parts of the convention was being turned on to new anime series. Some popular ones were the two fantasy series Sword Art Online II and Blade and Soul, and the Volleyball themed anime Haikyuu!!.
Surprisingly, there were far less fan cosplayers on the floor than we expected. They chose to stick to the tiny Cosplayer's World section of the convention rather than wander and show off their hard work. Perhaps it had something to do with the rule that cosplayers couldn't arrive in costume, but had to change inside the venue, although as far as we know there were no rules against walking the floor in costume once inside. It was a reminder that the concept of an anime convention is quite different in Japan than in the States.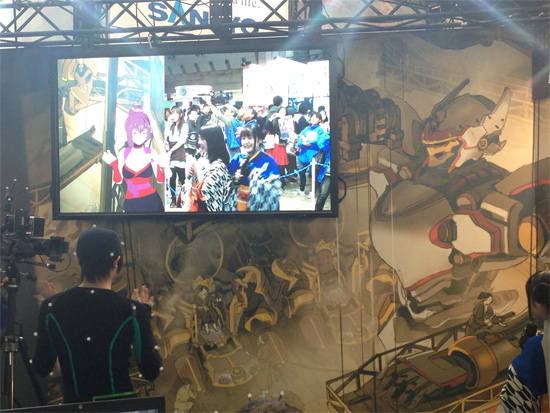 One of the most interesting exhibits was a motion display demonstration featuring this really feminine character with a big chest and a purple pony tail. Her model was a young, bored looking Japanese guy in a black suit fitted with dozens of motion sensors. He stood around looking dashingly disinterested until his character came onstage, and then he had to jump around and flip his "hair" and wave to the crowd, making all kinds of stereotypically feminine gestures, which the digital model replicated flawlessly. All we can say is he's good at what he does.