Anime First Impressions: Kill la Kill
One of the most hotly anticipated anime of this season has been Kill la Kill, which comes from relatively fresh anime studio Trigger (Little Witch Academia, Inferno Cop). While they've already managed to make quite a name for themselves in a short period of time, it's really the creative team behind Kill la Kill that set the Internet blazing. The series comes from director Hiroyuki Imaishi and writer Kazuki Nakashima, who both performed those exact duties on Gainax's 2007 Gurren Lagann anime. Anyone worried that they wouldn't be able to match such intensity with Kill la Kill will be pleasantly surprised by the electric first episode.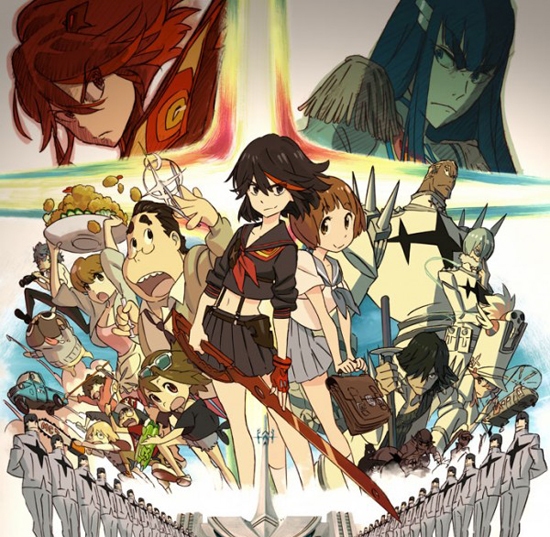 Kill la Kill's story is a mostly straightforward setup for revenge and shonen-style "stronger! STRONGER!" battle progression, but the execution is so damn special, and knowing this team there are most certainly surprises down the road. I'm not going to sit here and wag my finger at pretty much every other series out there, but Trigger's work exemplifies what makes animation unique. Even moments that would normally be glossed over with little to no movement get a fluid exclamation point here, and from the very first scene you can tell the show's staff is just straight up having fun.
Hannouji Academy is a ruthless school in which only the strong survive. Ryuko Matoi transfers to Hannouji in hopes of answering some serious, lingering questions about her father's death, but she immediately hits the roadblock known as Satsuki Kiryuin, the student council president who rules the academy with an iron fist. Despite a slew of club committee chairs who will use their own battling skills, coupled with their nearly impenetrable Goku uniforms, to protect Satsuki and the school's honor, Ryuko isn't going to be pushed back so easily.
Thankfully, Ryuko literally stumbles into an item that might just give her enough power and protection to contend with the ruthless villains of Hannouji Academy. After landing (and bleeding) on a buried school uniform—which is very much alive and very much wants Ryuko to wear it and keep the blood flowing—Ryuko heads back for a showdown on more equal terms.
The first episode of Kill la Kill runs at a breakneck pace, and its energy will be familiar to those who have seen any of Imaishi's previous work. I can't promise that everyone will love the show—it's not perfect, and some will definitely think the design of Ryuko's living uniform Senketsu is stupid—but it's really, really hard not to. The characters are as over-the-top as expected, the voice actors are all in on the insanity, the action is absolutely explosive, and it's just a purely fun and rewatchable 22-minutes of animation.
You can catch Kill la Kill streaming on Crunchyroll, and Aniplex of America will eventually release it on home video.