Again!! Volume 1 [Review]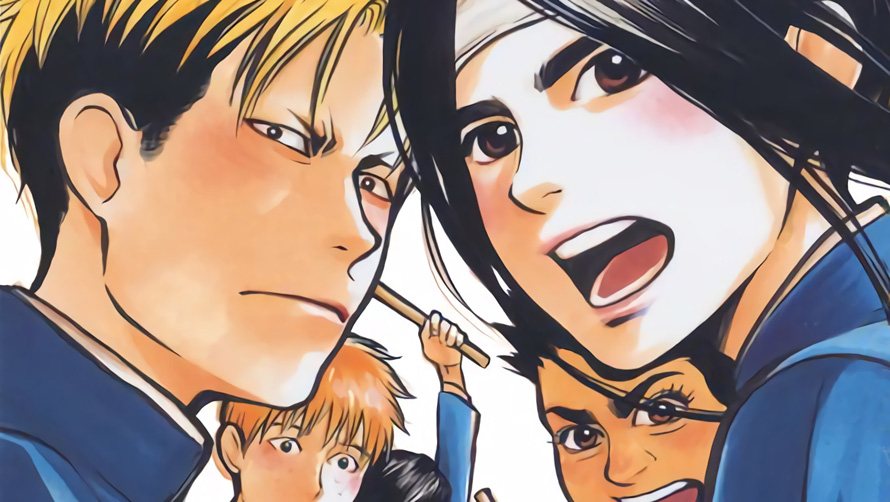 If you had the chance to relive your high school days again, would you take it? What if you were forced to start the entire journey over to smooth over the mistakes you wound up making—just as you were graduating? That's what happens to high school senior Kinichirou, a surly loner with no friends. As he prepares to make his much-anticipated high school exit, he and another student, a popular girl named Akira, fall down a flight of stairs together. When he wakes up the next day and finds that he's traveled back in time three years (Japanese high schools typically cover grades 10-12), he decides right away to make a change. Thus begins Again!!, a series that'll have readers giggling on one page and wiping away tears the next.
As a senior, Kinichirou has angry eyes and long, bleached hair that makes his classmates mistake him for a delinquent. It's interesting to see the physical changes as he restarts high school, as well as the emotional development as he decides to do things differently this time around. Specifically, he joins the school's ouendan, or traditional cheerleading club, after a run-in with head-butting ouendan captain Usami. Her old-school sensibilities and spirit make her irresistible to the former slacker Imamura, andhe starts helping her turn the club around.
Imamura isn't alone, however, as Akira, the girl who fell with him, has returned to the past as well. Akira sets out to recreate her perfect high school experience, only to find her efforts
failing at every turn. Her "assets" are smaller, she's got a lot less going on in her social life, and her future boyfriend doesn't recognize her. It's simultaneously cringeworthy and touching to see her trying to force reality into the life she had instead of waiting for her friendships and romance to blossom naturally.
Again!! explores the inner turmoil of knowing how things will play out but being unable to interfere. It's easy to sympathize with Akira as she's forced to deal with pain she can't wait to get past, and with Kinichirou as he realizes how much he missed out on the first time around. There's also Usami, a spirited girl who deserves better than the treatment her bullying classmates mete out, though things seem poised to develop positively between her and Kinichirou.
If you enjoyed the heartfelt drama of Your Name or ache to return to a simpler time in life, you'll get a kick out of this series. Smartly written and well paced with gorgeous artwork and storytelling by Yuri!! On Ice co-creator Mitsurou Kubo, it's a mature story about having to live through three years of immaturity. Recommended.
publisher: Kodansha
story and art: Mitsurou Kubo
rating: 13+
This story appears in the June 2018 issue of Otaku USA Magazine. Click here to get a print copy.