Adventure Time Hits Tokyo With Pop-up Shop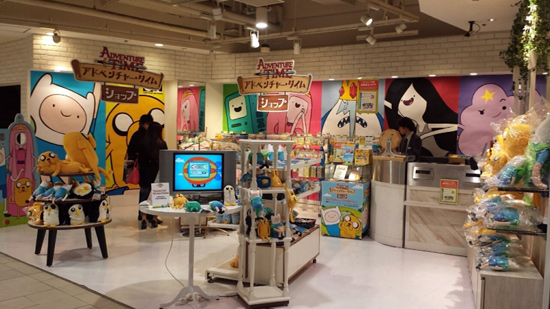 As Americans who dig Japanese animation, do you ever wonder what kind of American animation catches on in Japan?
While Disney releases like Frozen and Big Hero 6 rule the big screen, lately the Cartoon Network series Adventure Time seems to be doing well with TV audiences, especially kids and women.
Proof of Adventure Time's popularity comes in the form of a new pop-up shop in Tokyo's trendsetting Shibuya district, which opens March 6. It's the second time an Adventure Time shop has opened up, with last November's having been a success.
As is often the case with these limited-time shops, the idea isn't just to sell merchandise, but to expand the popularity of the show, so it'll have a special "event corner" where fans can take photos with the main characters.
Adventure Time also linked up America and Japan on the creative side of things last year when Masaaki Yuasa (Ping-Pong, Kick-Heart) directed an episode of the show called "Food Chain."
What do you think appeals to Japanese people about American animation like Big Hero 6 and Adventure Time?
Sources: Anime Anime, Shibujyuku3
---
Related Stories

– Attack on Titan Pop-up Shop Hands-on
– Animate Akihabara Tour
– Ikebukuro's Anime History
– Game Bar A-Button
– Asagaya Anime Street: First Impressions