Communication Blossoms into Love in A Sign of Affection Manga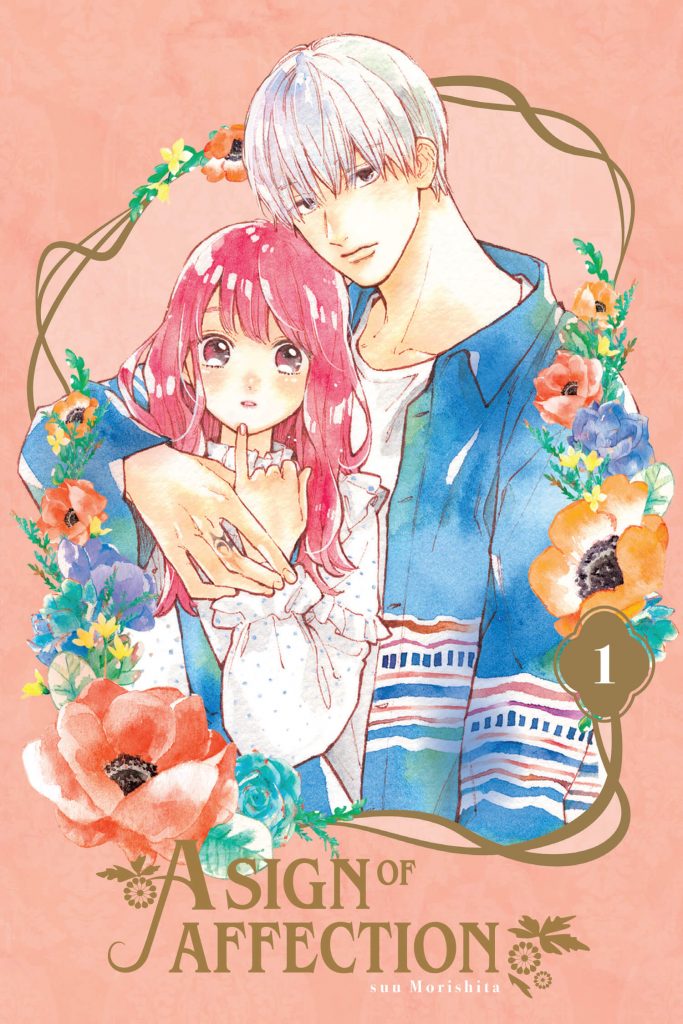 Shy 19-year-old college student Yuki is on the train when a man tries asking her for directions. Yuki wears a hearing aid and all noise sounds like white noise to her, and she gets flustered and doesn't know what to do. A male college student she vaguely recognizes from school comes over to help. He gives off friendly, caring, gentle vibes. When he realizes the dilemma, he asks if she can read lips. They start communicating. He says he'll see her later.
That's it. Yuki is in love.
She goes to the café/bar where he works and they continue to communicate through writing. His name is Itsuomi, and he's a world traveler with a gift for languages. He already speaks Japanese, English, and German, and knows a little Chinese and is starting on Spanish. But he doesn't know sign language. He hangs out with Yuki more, walks her home, and the two draw closer. Attractive women like him, which makes Yuki worry. She decides to make her own book that will teach him sign language, but he insists she teach him herself.
A Sign of Affection feels as friendly, caring, and gentle as Itsuomi. It's all about the innocence and emotions of first love, as seen from Yuki's heart-pounding point-of-view, but told in a quiet, melancholy way. It also teaches the reader a bit about sign language in Japan, such as the difference between "Japanese sign language" and "Signed Japanese." Obviously finding shojo manga about first love is an easy task, but this one has a new angle and perspective to it. That, along with the softness of the storytelling, make it stand out on its own.
There aren't too many books about hearing impaired people out there, even fewer in the manga genre, and it significantly shows Yuki as a person first and foremost. Her lack of hearing is part of who she is, and it affects her life, but it's not all of her or all she thinks about. One of the things she likes so much about Itsuomi is that he makes an effort to mouth his words slowly so she can read his lips, but ultimately he treats her like any other person instead of someone to be avoided or treated like glass. This sweet manga is rated 16+ and a digital-only release.
Story & Art: suu Morishita
Publisher: Kodansha
_____
Danica Davidson, along with Japanese mangaka Rena Saiya, is the author of Manga Art for Intermediates. In addition to showing how to draw manga character types in detail, the book describes how professional Japanese manga creators work, including common techniques and what drawing utensils they use.