Zatch Bell! Manga Gets Its Own Art Exhibition This Fall
One of the ways the 20th anniversary of Makoto Raiku's Zatch Bell! (Konjiki no Gash!!) manga is being celebrated is with a special art exhibition. In commemoration of both that and the sequel, Konjiki no GASH!! 2, the Kojiki no Gash!! and Makoto Raiku Original Art Exhibition is officially set to kick off at Tokyo Soramachi in Tokyo on September 16, where it will run until October 2.
The exhibition will then move to Osaka's Kintetsu Department Store Main Store Abeno Harukas location from October 6 to 17. 
Check out the key visual by creator Makoto Raiku: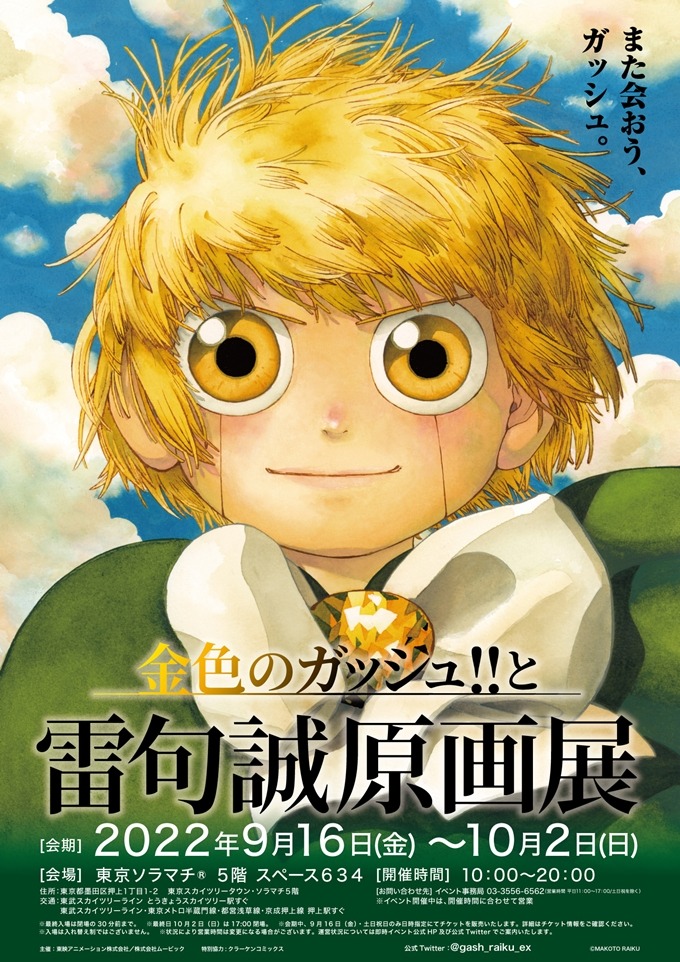 There's also a promo:
The Zatch Bell! sequel started serialization in digital bookstores in Japan back in March of this year and has had five chapters released thus far. 
The original Zatch Bell!! manga ran in the pages of Shogakukan's Weekly Shonen Sunday magazine from January 2001 to December 2007 for a total of 33 collected volumes. A 150-episode TV anime adaptation ran from April 2003 to March 2008.
The Zatch Bell!! anime is currently available to stream on Crunchyroll, which describes it like so:
Every thousand years, mamodo descend upon earth to conduct the ultimate battle. The winning mamodo becomes the king of the mamodo world. In order for the many mamodo to use their powerful spell books, they need a human partner. Kiyo is a brilliant but aloof 14-year old. Kiyo's father, an archeologist, finds a mamodo child named Zatch unconscious in a forest. He sends the goodhearted Zatch to be his son's mentor. It is up to Kiyo and Zatch to discover this together. The unsuspecting Zatch and Kiyo must defend themselves against the ambush of mamodo-king wannabees.
Via Crunchyroll News