X: The Complete Series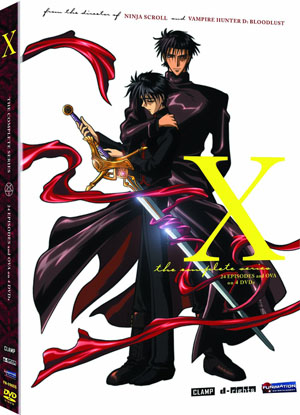 When something bad happens, a person might say, "Well, it's not the end of the world." But with the anime X, it is the end of the world. Armageddon. The end of days.
X comes to us from a manga written by CLAMP, the same mangaka group who brought us the silly Chobits and the lovesick Tsubasa. Boy, does this series have a completely different feel. X is moody, gothic, violent and intense. This series has a great setup (unless, of course, you're in the mood for something light and fluffy). If you want acute drama and the elements of tragedy, your emo self might be right at home here.
The problem, though, is that X can be confusing. In the first few episodes, there are all these characters running around without much explanation, and it can be easy to mix some of them up. As things begin to get explained, X becomes increasingly more interesting. The Dragons of Heaven are to fight the Dragons of Earth, the outcome of which will decide what happens to humanity in the year 1999. There's quite a bit of religious and mythological symbolism in here, if you'd care to pay close attention. If not, it's still fun.
And, well, there's a lot of other stuff, too, but I don't want to give it away for you. It's something you kind of have to watch yourself to catch on. And remember that confusing remark? Writing it down here might make it confusing, too. X isn't an anime that you necessarily get into right away. It's one of those series that warms up around you and pulls you into its web.
The art is very nice. It has an "older" style, kind of that late '80s, early '90s feel, thanks in part to the involvement of director Yoshiaki Kawajiri (Wicked City, Ninja Scroll). It has a dark atmosphere that's perfect for the setting of such a dystopian tale; all dark and bloody and such. FUNimation has released the entire series, plus the OVA. The show itself is made up of 24 episodes and there's a total playing time of 625 minutes spread across four discs. And if you like it, there's also the manga version to seek out, published by VIZ Media as X/1999. There are some differences between it and the anime.
Spoiler Alert: Well, it's past the year 1999 and we're all still alive, so I guess things work out at the end of X. Maybe…
Distributor: FUNimation
Available: Now