USC Marching Band Pays Tribute To One Piece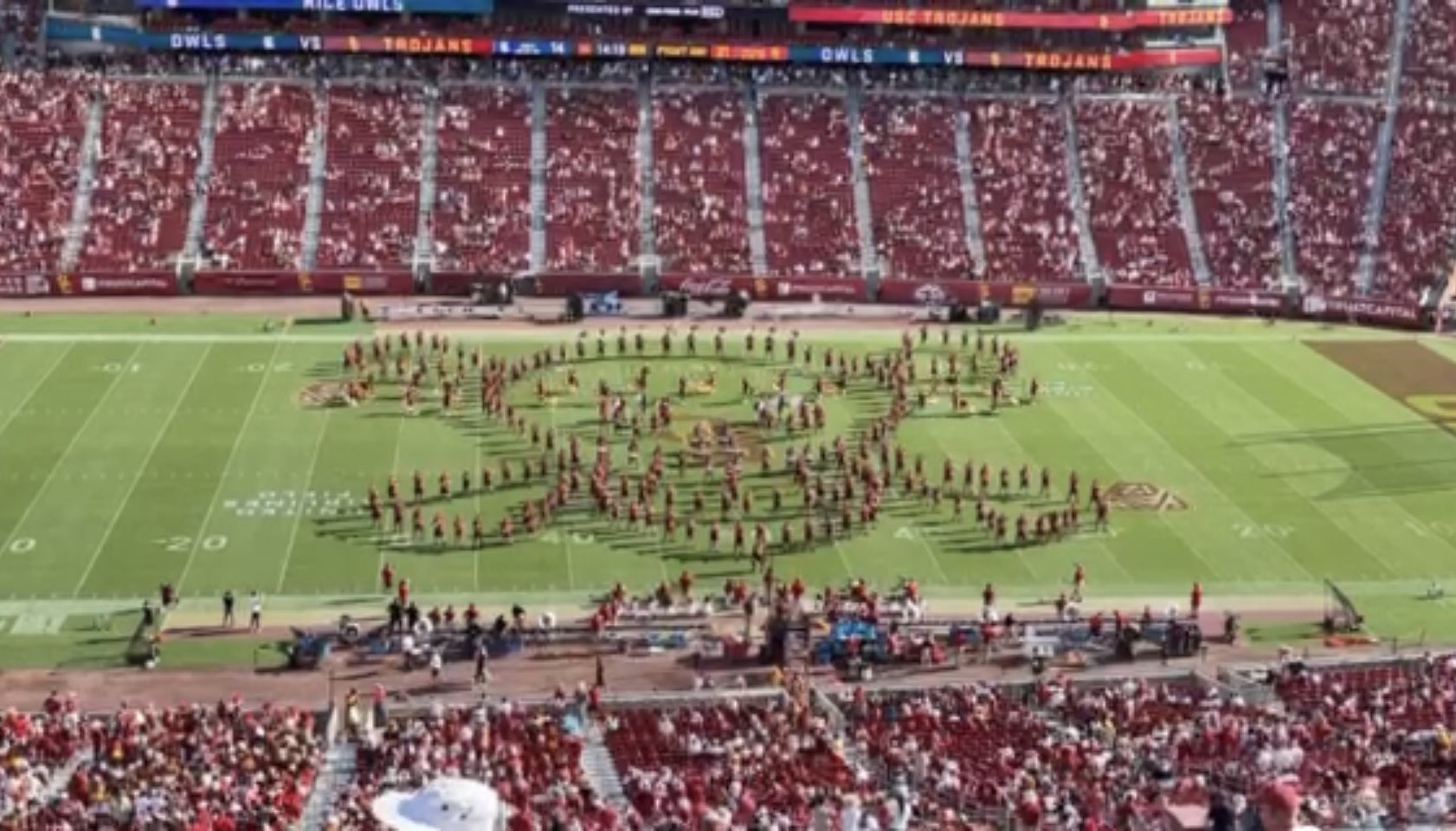 School marching bands are known for playing music from movies, so why not play music from an anime movie? This past weekend One Piece Film Red and Luffy made their mark with the University of Southern California's marching band performance at the USC Trojans against Rice University season opener game.
The match was sponsored by none other than One Piece Film Red, and One Piece's animation company, Toei Animation, shared some of the highlights. In this one, Luffy sees and responds to the audience, exclaiming, "Hey hey! You guys are right here! I'm Monkey D. Luffy! I'm the man who's gonna be king of the pirates! Whoa, you can feel the incredible excitement in the stadium! I'm told the Spirit of Troy are now gonna play our music! You guys ready? Here we go!"
https://twitter.com/ToeiAnimation/status/1566247165063675904
In this halftime performance, you can see them playing songs from the film as a medley.
https://twitter.com/ToeiAnimation/status/1566473975684747264
And take a look at these formations!
https://twitter.com/ToeiAnimation/status/1566488497585672192
Drew DeHart, who is vice president and general manager of USC Sports Properties and Playfly Sports, remarked before the game, "The USC Trojans are fired up to join the Straw Hat Crew for the season opener!"
The movie is coming to American theaters in October, and Crunchyroll gave this description of the story:
"Uta —the most beloved singer in the world. Renowned for concealing her own identity when performing, her voice has come to be described as "otherworldly." Now, for the first time ever, Uta will herself to the world at a live concert. As the venue fills with all kinds of Uta fans —excited pirates, the Navy watching closely, and the Straw Hats led by Luffy who simply came to enjoy her sonorous performance —the voice that the whole world has been waiting for is about to resound. The story begins with the shocking fact that she is Shanks' daughter."
Source: ANN
____
Danica Davidson is the author of the bestselling Manga Art for Beginners with artist Melanie Westin, plus its sequel, Manga Art for Everyone, and the first-of-its-kind manga chalk book Chalk Art Manga, both illustrated by professional Japanese mangaka Rena Saiya. Check out her other comics and books at www.danicadavidson.com.