Looking for the Best Demon Slayer figure? Get our Top 5 Suggestions!
If you're looking for an anime that is packed full of adventure, beautiful fight scenes, and awesome characters to root for, then Demon Slayer is the anime you'll love! It's taken the world by storm as we've watched this brother-sister duo make new friends and fight enemies as they work together as siblings should. The characters in this show are incredible, and we at Otaku USA are happy to report that we have found our favorite Demon Slayer figure, along with some others you'll probably want to add to your collection!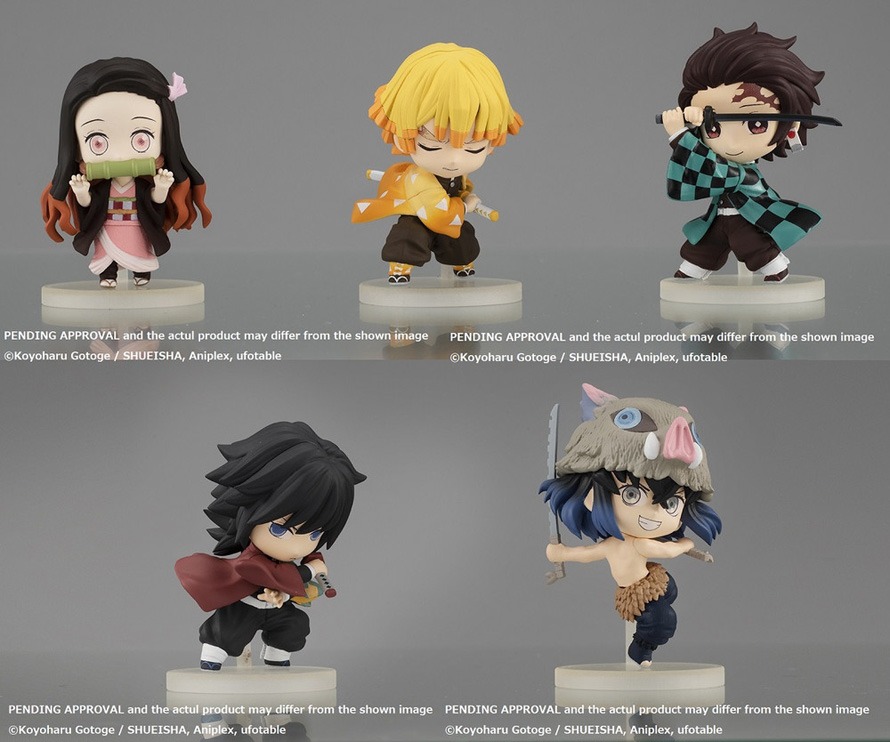 Rounding out our list is a set of 5 chibi statuettes to line your shelf. You can now have 3" versions of the main characters in your life! Each figure is in either a cute or show accurate position to make you smile. Let this group of warriors guard your happiness.
Pros: You do get all of the big 5 from the show. Tanjiro stands with sword drawn, smiling at you. Nezuko appears to be doing a "rawr" pose, making her the cutest of the bunch. Zenitsu stands at rest, ready to draw his blade. Inosuke is shown as the badass warrior that he is. Giyu appears to be ready to have some fun with a gleeful grin on his face. Each comes with a clear stand and work well as separate pieces as well as a unit. Each sculpt is a chibi version of their show accurate appearance.
Cons: As of the time of writing, this set won't drop till February 2021, but preordering is open. Also, this is the 2nd time we've seen Zenitsu in this "just before striking" pose. While we don't mind this, we do wish this guy got some more love in the pose departments. He fights just as well as the other slayers, so why not show him in a more action-oriented positioning? Also, Tanjiro's blade blocks the upper part of his eyes and the lower part of his forehead. It hides some of the great work done on his face, which is kind of sad because the detailing here is pretty good. We know these are in a chibi style, so the arms don't go past the face, but you could have him hold his blade in a different position so it doesn't look like he's trying to cut off his eyebrows. These figurines are also solid pieces, so repositioning them is out of the question. However, if you want to have these five in your life, this set isn't a bad choice.
Number 4 shows off Zenitsu Agatsuma in a resting pose. This sleepfighter stands before us, ready to draw his blade to take on a foe. We feel bad for whoever he's about to take down for they know not what is to happen.
Pros: The pose used for this sculpt is pretty cool. You can tell by the hand placements that he is only moments away from drawing his Nichirin Blade. They also did a great job translating his hair from screen to figurine. How his hair appears in the show had us wondering how it would look in the real world without appearing awkward. This choice did a superb job at it! The detailing in the closed eye face is also rather well done. Since most characters usually don't fight in their sleep, showing a closed-eyed face in a state of peaceful rest that also exudes power is a feat in itself! The ground upon which this almost 7" stands upon is gently detailed as to not take away from the main focus.
Cons: This piece does not allow for posing, and we are lead to believe that the rocky ground is part of the piece, meaning he can't be separated from it. While the ground is okay, we do wish that he came with some effect pieces. His robe shows that some movement is going on. Maybe he could be posed with his blade partly drawn so some lightning effects could be implemented. Also, while the face details are well done, we aren't used to seeing closed eyes like his on a figurine. This can make one feel a little uneasy if they stare too long.
Our choice at number 3 is Shinobu Kocho in her fighting duds. Here she stands in a graceful pose with a butterfly perched on her finger. Her peaceful gaze and graceful stance hide a mighty warrior in heart and spirit.
Pros: Her show accurate garb is in beautiful display! Her pose has her look very much like the insect that she uses in her fighting style. The coloring used is superb! We can't get over how her socks match her coat in coloring and design. We know how tough it is to make the patterns match in a dynamic pose like that! Her stand assists with giving this gentle soul the appearance of being in midflight as she gazes serenely about. Standing a little under 9" makes this majestic fighter unable to be missed in a crowd.
Cons: She is available at time of writing for preorder. Her release date is set for the end of December 2020. We do wish that this unposable model had some background effects. This is the Insect Hashira! We know that she can do some amazing attacks! If anything, maybe add a small plume of Wisteria-colored butterflies to her stand so her foot doesn't look like it's stuck to a black block, or you could make the clear stand a complementary color. This beautiful serene figurine deserves a little more love in our books.
Number 2 is the younger sister of our hero. Here we see Nezuko in her smaller form dodging a blow as she follows her brother's instruction to run! The force of the blow she just missed is apparent to our eyes, allowing us to marvel over the speed and agility of this little cutie.
Pros: This 5" sweetie is just what your shelf needs! The details of her outfit are not only show accurate but also show off just how quickly our shrunken demon girl can run even in her oversized outfit. The force of the blow that has felled the trees behind her is dangerously close to taking off her toes. The sculpt work on the trees is extremely detailed. This number also does a great job showing motion. She also comes with another expression plate, so you can choose to show off her detailed pinkish eyes or change into her more pensive expression.
Cons: This figure is only on preorder as of the time of writing. She isn't set to grace us with her presence until the end of February 2021. The coloring and sculpt of the force of the attack also feels more like a wave of water that she's jumping off of instead of a blow. Perhaps a more transparent material or lighter blues may help with conveying that fact. Either way, this work tackled a difficult moment with amazing accuracy. Besides the changing face, there aren't any other alterations you can make to this model.
This Tanjiro Kamado figurine was a no brainer for our number one choice. This best big brother is in full swing, using his Dance of the Fire God attack. The determination in his face warns enemies that they really should not have engaged him in battle. He's ready to take them out to protect all he cares about!
Pros: Where to start with this one!?! I mean, look at it! The sculpt of Tanjiro in action is amazing! The dynamic pose and positioning of the flames clearly capture the force of his prior movements as well as display the force of the attack to come! The little details, such as the windswept hair and wound across his face, shows that he may be in the fight of his life, but he isn't going down easy! It's hard to capture mid-air motion without connecting the character to the ground in some way, yet this choice uses the flames in such a way that he appears to be leaping through the air while being surrounded by the power of his incoming blow. He also stands just about 8", making him small yet mighty in presence!
Cons: This item is out of the preorder stage as t is set to release at the end of January 2021. As of the time of writing, it's suggested that interested parties join an email list to grab one of these masterpieces. A smaller critique is that while the flames are sculpted and colored beautifully, maybe a brighter color or more transparent material would allow the flames to appear more like realistic flames instead of sculpted ones. This nitpick and the fact that you can't repose this piece are minor in the scheme of things. We seriously can't gush enough about this one!
---
Demon Slayer is a remarkable show that plays out like your typical monster of the week format, but it has enough uniqueness that it feels fresh and new. These statuettes show off the love and care taken in the show to have it be a work of art. If you're a fan of the show or just a fan of how cool these characters look, we hope that our choices for figurines you must have will slay your desire for these warriors to protect your displays.
Otaku USA may earn a small commission on purchases made through links on this article.