These New Demon Slayer Plushies Might Be Bigger Than You!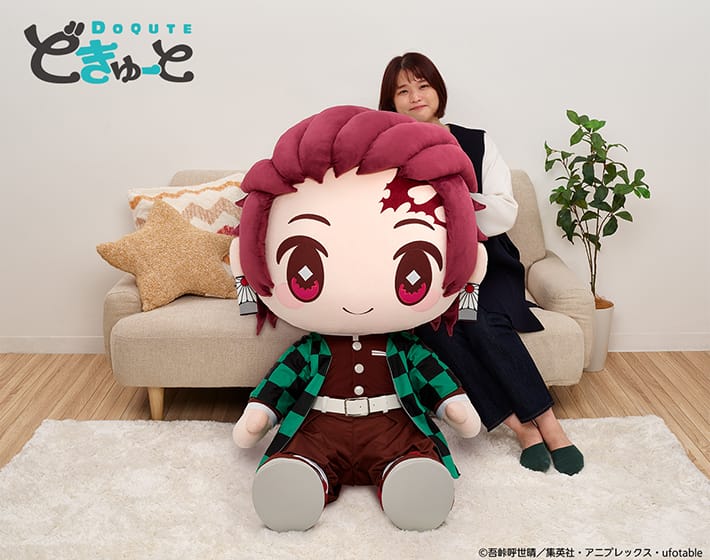 There are plushies and then there are plushies. The latest Demon Slayer plushies are serious plushies, and though the characters were created with chibi proportions, they're far from being small. In fact, these plushies are just under forty-two inches in height and about twenty-five and a half inches across. And they weigh nearly twenty pounds! As an extra visual to let you know how big these toys are, each photo of them has a person sitting nearby to give a little extra perspective.
As the lead, Tanjiro of course gets made into a plushie, but he's not the only character. These toys, which are made by Doqute, also have a plushie version of his sister Nezuko.
There is also Kyojuro Rengoku.
No collection of Demon Slayer character toys would be complete without Zenitsu Agatsuma.
Last but not least is this giant plushie of Inosuke Hashibira, with his iconic boar's head covering his pretty face.
As you might imagine, plushies this size don't come cheap. They each cost 66,000 yen, which is about $475.
They also go on sale at different times. You can get brother and sister Tanjiro and Nezuko starting tomorrow, November 18, though they aren't scheduled to be delivered until May of next year. Meanwhile, Zenitsu and Inosuke become available on December 23. They'll be delivered in June 2023.
Rengoku becomes available last. People can buy him starting on February 3, and he will be delivered in July. If you're interested in purchasing, go here.
VIZ Media publishes the original Demon Slayer manga in English, and gave this description for the first volume:
"Learning to destroy demons won't be easy, and Tanjiro barely knows where to start. The surprise appearance of another boy named Giyu, who seems to know what's going on, might provide some answers—but only if Tanjiro can stop Giyu from killing his sister first!"
Source: SoraNews24
____
Danica Davidson is the author of the bestselling Manga Art for Beginners with artist Melanie Westin, plus its sequel, Manga Art for Everyone, and the first-of-its-kind manga chalk book Chalk Art Manga, both illustrated by professional Japanese mangaka Rena Saiya. Check out her other comics and books at www.danicadavidson.com.