The Eccentric Family Gets Second Season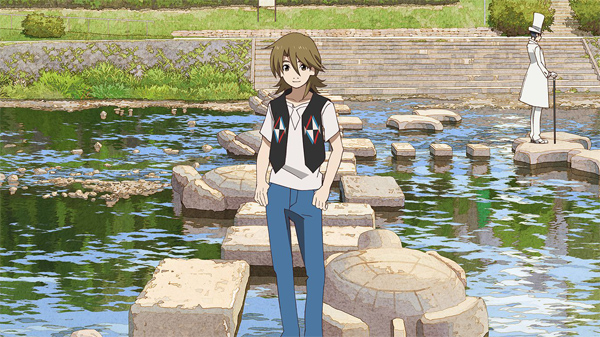 Studio P.A.Works is producing a sequel to their 2013 series The Eccentric Family, it was announced at the Kyoto International Manga Anime Fair yesterday.
The new series, which is entitled The Eccentric Family 2, is the first sequel series for P.A.Works (Shirobako, Kuromukuro).
The sequel will reunite the original cast and crew of The Eccentric Family, which includes director Masayuki Yoshihara and writer Ryo Higaki. The main cast is:
Yasaburo: Takahiro Sakurai
Yaichiro: Junichi Suwabe
Yajiro: Hiroyuki Yoshino
Yashiro: Mai Nakahara
Benten: Mamiko Noto
The official site for the new series features comments from several key people involved in the project, including Tomihiko Morimi, author of the Eccentric Family novels:
"'Once again, I have written another novel difficult to visualize.'
This was my thought when I finished writing the sequel. As a clumsy writer, I have lost my proper consideration for the production staff and could not withhold my wild fantasies. When I reflect upon the countless obstacles that everyone in the production staff will be facing, I am in endless remorse. Please, forgive this rambunctious author. This is an abbreviated formality, but with this comment, I hereby express my apologies, and offer my pray for the birth of a masterpiece greater than the first season."
Masayuki Yoshihara, Takahiro Sakurai, Mamiko Noto, Tomihiko Morimi
Director Masayuki Yoshihara:
"The highlight of 'Uchouten Kazoku 2' is the attractive new characters.
Please watch and read the first season, and then enjoy this new world to the fullest."
P.A.Works producer Kenji Horikawa:
"To visually adapt part 2 of the original novel, I felt the need for greater determination and to become more adventurous, even more than the previous season. We want to make this animation, but if we become careless, we'll end up in the Tanuki pot. In a world surrounded by fluffy furballs, we crave for that taste of happiness we previously had. We may roast in the inferno flames if we fail to grab hold of the spider's thread."
The first Eccentric Family series aired between July to September 2013 and was simulcast by Crunchyroll.