The 5 Coolest Anime Jackets – Otaku USA's Top Picks!
Nearly every anime fan has issues finding the perfect merch, especially on websites where sellers can coax high ratings to make their low-quality hoodies and t-shirts look like they could be the real deal.
It can sometimes seem like you're discouragingly sifting through endless images, information pages, and reviews. Never fear Otaku readers! We've decided to take the guess work out, finding brands and clothing that you'll be wearing for years to come!
Our main focus will be overall design, price point, fabric, and overall consumer satisfaction. Without further ado, here are Otaku's top 5 coolest anime jackets to keep you warm on those chilly November nights!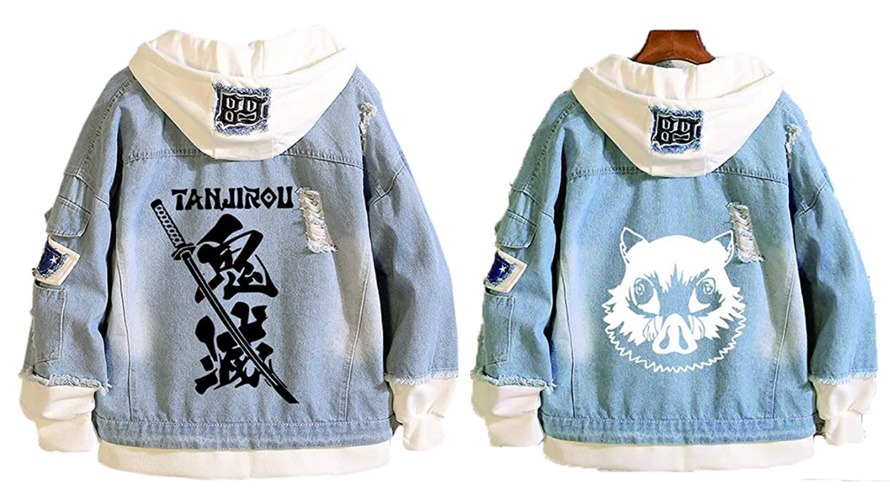 For fans of Koyoharu Gotouge's Demon Slayer, amazon seller HLZG offers a jacket made of eighty-five percent cotton and fifteen percent denim, giving it a denim look with the softness of cotton.
This product features a distressed denim look, with embellishments such as patchwork, embroidery and faux front pockets. The product is advertised as being great for any season and its price ranges from $26.99-42.98 depending on size and style.
In addition to this, purchasers are treated with a Kamado Tanjirou cosplay keychain and necklace to sweeten the deal.
According to the consumers that bought the product, the print on the back is clear and looks as advertised. Consumers also said that the product is comfy, when it fits.
Since the clothing was made in Asia, this product runs small. Both the seller and reviewers recommend sizing up by about 2-3 sizes as a discretion. Other downsides to the product are that the material is thinner than expected, making it more suited to Autumn than Winter.
The most negative reviews on the product say the main problems are defects that were found in the clothing, something that shouldn't happen for most consumers.
All in all, this trendy hoody would make a great addition to a Demon Slayer fan's closet. Despite the occasional quality assurance issue, the product seems to have satisfied most customers so long as they take sizing differences into account.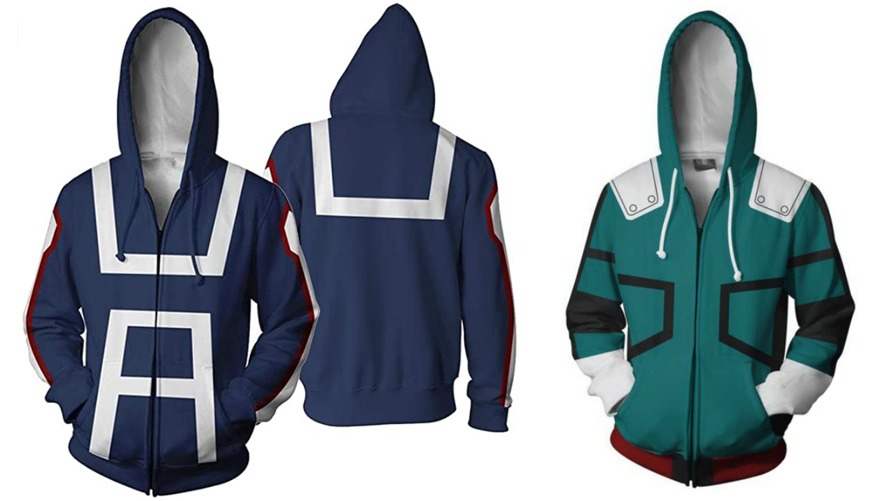 Who doesn't love Kohei Horikoshi's My Hero Academia? Such a beloved show deserves some great cosplay outfits, and this set of hoodies by QAQ-Cosplay certainly hit the mark for Otaku.
With prices ranging from $19.99-$28.99, these vividly designed polyester hoodies are great for the Otaku on a budget.
The products come in fifteen different designs and features many of UA's finest, including fan favorites Shoto Todoroki and Izuku Midoriya. The collection also offers a cosplay-worthy UA hoodie as well as a hoodie designed after Deku's costume.
Overall, consumers were impressed with the clothing, with images showing that the product looks as vibrantly colorful and aesthetically pleasing as advertised. As with most polyester hoodies, these products are optimal for breezy Fall days.
The main thing to keep in mind with this specific product is that it runs thinner than some anticipated (as stated above, better for Autumn than Winter) and that the size runs on the small side so it is suggested to go up a size or two for an optimal fit.
Whether you want to showcase your favorite character or cosplay as a UA student, this set of hoodies is a great pick for anyone looking to be plus ultra.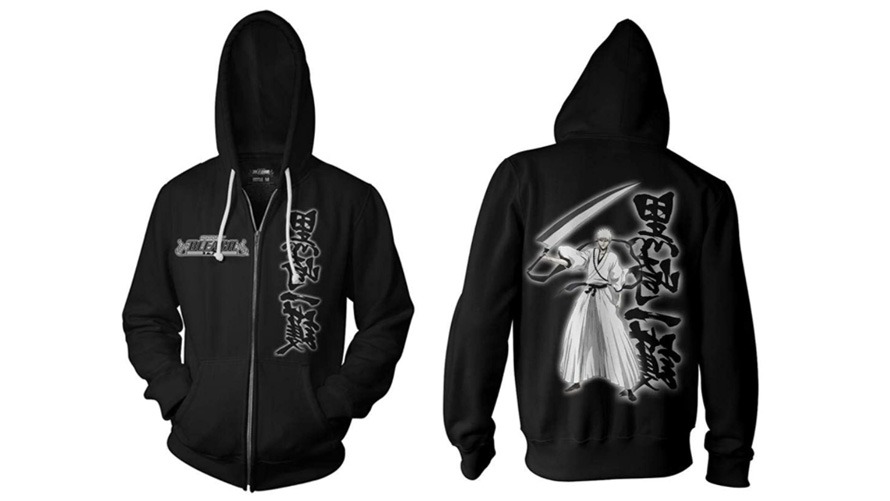 Though Bleach is older than the previous two shows, it seems fitting to put a high-quality Bleach hoodie on the list considering the anticipation over the future release of the Thousand-Year Blood War Arc in 2021.
This product has a price point of between $49.99 and $51.99 depending on the size chosen.
This 100% cotton hoodie features the bleach logo in the front while the back showcases a sinister image of White Ichigo/Zangetsu.
According to Amazon reviewers, the product fits well, is made of good quality materials, and ships fast. The only thing to be wary of is that it runs slightly larger so you may want to size down if you want a tighter fit.
So if you want to be able to sport some fresh Bleach merch while watching the premiere of season 17 next year, look no further than this product or any of the other Bleach merchandise sold by Ripple Junction.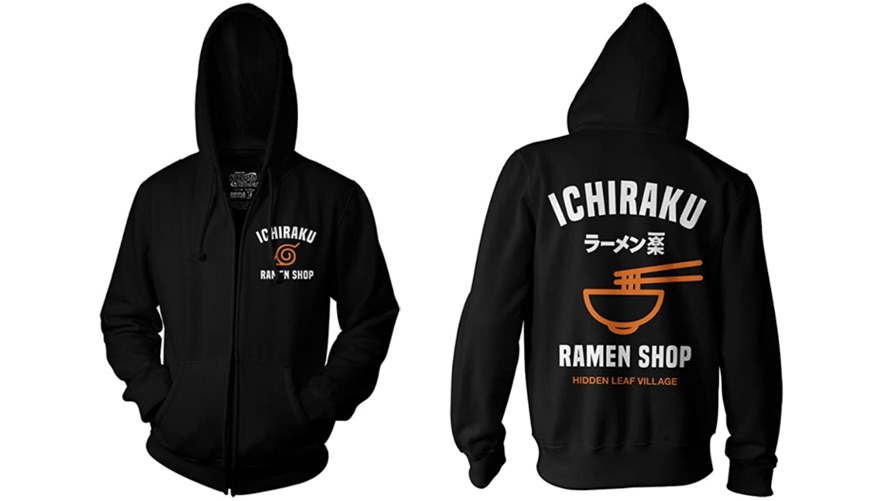 Fans of the Naruto series will recognize Naruto Uzumaki's favorite dining spot.
With a price range of $49.95 to $56.95 depending on size, this 100% cotton hoodie is another high-quality product sold by Ripple Junction.
Though the fabric is thinner, this versatile product is Canadian approved, with one Canadian reviewer saying he was shocked at how warm the hoodie was despite its light fabric. Another consumer described it as being breathable and great for those among us who enjoy dressing warm all year round. The thinner fabric also makes it great for layering in the winter.
More practical reviewers loved that the hoodie washes well and is clearly well-designed fandom clothing without being quite as loud and flashy as other products they've tried in the past.
Keep in mind that this product, much like our #1 choice, runs a little large, something to consider when picking your perfect size. In addition, if you are looking for big pockets, this is not the product for you.
All in all, this hoodie is worth the price and would be a great addition to any Naruto fan's wardrobe.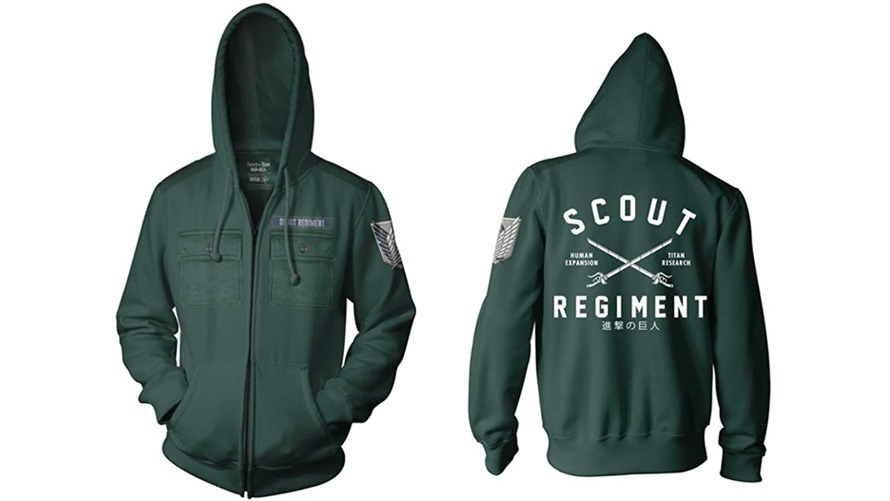 Our top-rated product comes from Ohio-based Ripple Junction, a seller featured more than once on this list. It showcases Hajime Isayama's Attack on Titan and in our opinion, it is the most compellingly designed product on this list.
With a similar price range to our next two picks, this product costs between $49.99 and $53.99, varying based on size and color and is made of 60% cotton and 40% polyester.
Available in both black and a dark green, this product features four pockets, a Scout Regiment patch on the front, a symbol on the sleeve, and a crossed swords design on the back.
According to previous buyers, the regiment hoodie fits well, though it runs big. Reviewers enjoyed that it is perfect for year-round wear and is easy to layer with other clothes in the Winter.
A few reviewers lowered their five-star ratings due to small QC defects, but chances are most consumers won't run into this issue.
Whether you want to cosplay as "the only hope for mankind" or just look great getting groceries, this is a great fit for you and in our opinion, is one of the most interesting anime jackets Amazon has to offer.
---
It is Otaku's hope that this comprehensive list has taken you one step closer to finding that perfect product that you have been craving. All three sellers featured are worthy of a deeper dive in their catalogue so feel free to browse without having to worry as much about getting a horrible product!
Otaku USA may earn a small commission on purchases made through links on this article. As an Amazon Associate we earn from qualifying purchases.