SPY x FAMILY is Getting Its Own Café with Special Food and Drinks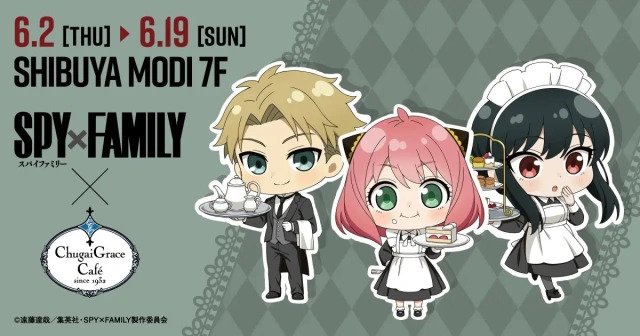 A number of popular anime and manga titles get their own specialty cafés, so it really was only a matter of time before SPY x FAMILY got one. The limited-time SPY X FAMILY café will open next month in the Chigai Grace Café, which is located in the Shibuya district of Tokyo.
No café would be complete without themed food and drinks, so let's take a look at their menu. First up is the Mission Makeup Rice Omelet, which is a clear homage to the series.
The Pancakes with Nuts that Anya Loves dessert is stylized so that the color of the icing and the cookie toppings peeking out look like Anya's hair and accessories.
Then there's the Aim to Become an Imperial Scholar Stellar Parfait.
If you're feeling thirsty, you can get the Loid's Champagne-style Drink, Yor's Bloody Orange Juice.
If that doesn't parch your thirst, there's also the Yuri's Wine-style Drink.
Anyone who gets food or drink at the café will be given one of these coasters with the characters shown in the chibi style.
In addition to that, a little gift shop will be there. Here are some of the things they'll be offering.
If you can't get to the gift shop, there is also the option of buying these items online. Just know that the website is in Japanese.
SPY X FAMILY Café opens its doors to the public on June 2, and will only be around until the nineteenth.
VIZ publishes the SPY X FAMILY manga, and Crunchyroll streams the anime. Crunchyroll gave this description of it:
"World peace is at stake and secret agent Twilight must undergo his most difficult mission yet—pretend to be a family man. Posing as a loving husband and father, he'll infiltrate an elite school to get close to a high-profile politician. He has the perfect cover, except his wife's a deadly assassin and neither knows each other's identity. But someone does, his adopted daughter who's a telepath!"
Source: SoraNews24
___
Danica Davidson is the author of the bestselling Manga Art for Beginners with artist Melanie Westin. She is also the author of its upcoming sequel, Manga Art for Everyone, and the first-of-its-kind manga chalk book Chalk Art Manga, both illustrated by professional Japanese mangaka Rena Saiya. Check out her other comics and books at www.danicadavidson.com.