[Review] Pita-Ten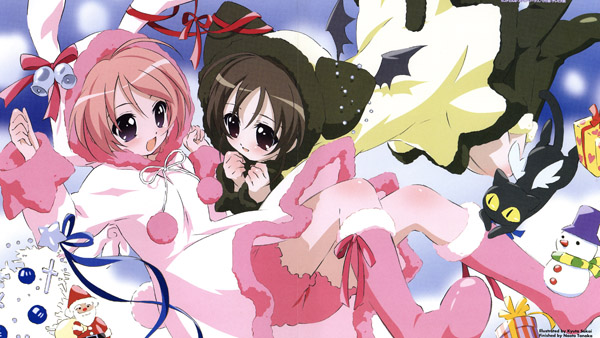 Pita-Ten could possibly be one of the cutest anime series of all time if it weren't for creator Koge-Donbo's Digi Charat series. It's still in the running for a close second, however, with its innocent themes, sugary-sweet characters, and the unlikely friendship between a young boy and an apprentice angel. Though the series was released back in 2003, it's been given a new release
by way of Nozomi Entertainment, and thus a whole new fleet of fans can drink up the sweetness.
Pita-Ten follows young Kotaro, a sixth-grader who lives alone with his father. After his mother died while keeping him safe from a moving vehicle, Kotaro was forced to take on additional household chores and a more adult role in his household since his father couldn't possibly do it all himself. Unfortunately, the pressures of school life, friends, homework, and more still weigh on Kotaro, and he finds himself struggling to stay afloat. One fateful morning he meets a strange pink-haired girl named Misha who's apparently an angel-in-training and his brand new next door neighbor.
Misha won't take no for an answer from Kotaro as she does her best to remain by his side at all times, having chosen her for her special "project." With Misha at his side, Kotaro is pulled into a cavalcade of bizarre situations, including a run-in with an apprentice demon (good to balance the light and dark in the series, of course), slapstick humor, and other silliness that permeates every part of the show. It's clearly aimed toward children, but there's plenty for viewers of all ages to enjoy, especially with a lack of forced romance, adult situations, and the complications that come along with harem series. That's not what you're getting with Pita-Ten, and in many ways it's refreshing for that very reason.
Across the 26 episodes, you'll find yourself falling in love with the quirky personalities of Misha, demon apprentice Shia, Kotaro's classmates Takashi and Koboshi, and the darker turns that make themselves apparent through Shia's back story. You shouldn't confuse Pita-Ten for a complex or obtuse piece of entertainment, however, and should instead find a sort of peace or center in its simplicity.
The art is gorgeous, pastel, and vivid and the characters themselves express every emotion with fluidity and candor, making it a treat to see the drawings moving into action. If you've ever watched any Digi Charat, you'll feel right at home here, as Misha slightly channels the effervescent Rabi~en~Rose at times, especially with Misha's bunny-like angel wings on either side of her head.
There's a simple charm to Pita-Ten that's lost on so many modern series, and for that reason it triumphs, even though it's worlds apart from the series we're lauding these days. It doesn't rely on its cuteness to build a believable story, though it certainly helps. And despite the fact that there are some out-of-this-world circumstances in Pita-Ten, from the onset you feel close to the characters that set the stage. And whether you're a younger or older anime fan, those are aspects we can all appreciate.
If you need a dose of some sugary-sweet innocence in your life, look to the rerelease of Pita-Ten. Just don't be surprised if you end up falling in love with adorable Misha. It's fine. It happens to the best of us.
distributor: Right Stuf/Lucky Penny
available: Now
rating: Not Rated