Red Colored Elegy [Review]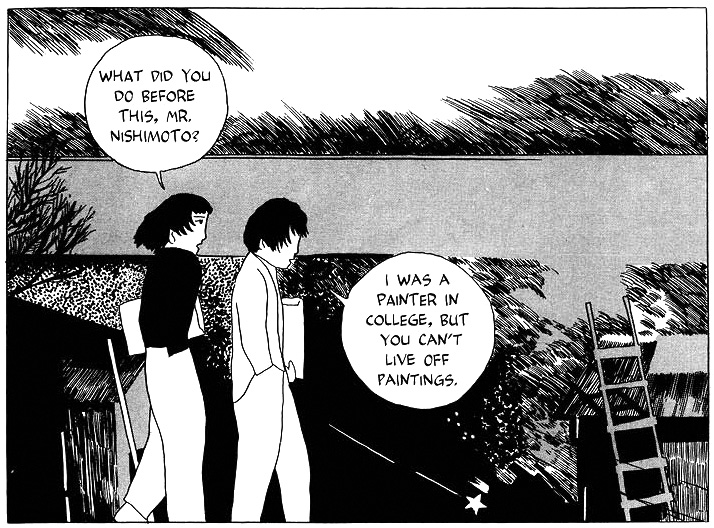 ©Seiichi Hayashi. Images courtesy Drawn & Quarterly.
Seiichi Hayashi might be one of the most famous manga artists you've never heard of.
Not only was he a prominent member of the avant-garde art movements of the 1960s and 1970s, but Hayashi also made "geki-ga," comics that rebelled against kid-friendly manga. Red Colored Elegy, one of his most influential works, got a release from Drawn & Quarterly years ago and now it's back in print along with an extended essay by art history professor Ryan Holmberg.
Ichiro and Sachiko are young lovers shacked up in a cheap Tokyo apartment in the 1960s. Both of them work in the grind that is the animation industry, with Ichiro drawing key frames and Sachiko tracing frames onto cels. Through a series of disjointed interactions, Hayashi depicts the slow breakdown of their relationship as a result of the pressures of work, family, and Ichiro's inattention. But to call Red Colored Elegy a simple romantic drama is to sell Hayashi short.
Inspired by New Wave films, animation, and pop music, Hayashi stitches together a story from mismatched parts, and the result is unlike most manga I've ever read. Character models shift to match the mood of the scene—sometimes flattened into nearly geometric shapes, sometimes detailed in sketchy line art, sometimes depicted as a body with no face. The staccato dialogue, pregnant with words unsaid, periodically gives way to two-page illustrations of background details—waves on a beach, a fly landing on a lamp overhead. Then there's the direct references to films, songs, and other comics, likely well understood by Hayashi's contemporary Japanese audience but lost on Westerners discovering his work years later.
Make no mistake, this is an obtuse comic, one that begs for multiple readings to let it all sink in. But even a quick read gives a sense that beneath its abstract, postmodern noise lies a lyrical quality that even the most expertly drawn mainstream manga lacks. Often avant-garde art is easier to appreciate than to enjoy, but even when I didn't totally "get" Red Colored Elegy, I enjoyed letting Hayashi's raw emotional energy carry me along.
Unfortunately D&Q has flipped the manga in a misguided attempt to cater to American readers, distorting Hayashi's original artistic intentions. The mistake is almost made up for by the inclusion of Holmberg's superb essay, which provides crucial context and analysis regarding Red Colored Elegy's themes, artwork, and place in the history of Japanese pop culture.
Red Colored Elegy isn't for everyone, but if you're interested in exposing yourself to a different perspective on what manga is capable of, or you're curious about the art and counterculture of 1970s Japan, you can't do much better than this book. Recommended.
publisher: Drawn & Quarterly
story and art: Seiichi Hayashi
rating: Unrated/16+
This story appears in the February 2018 issue of Otaku USA Magazine. Click here to get a print copy.