Pokémon the Movie: Genesect and the Legend Awakened
On Saturday, October 19, 2013, Cartoon Network premiered the 16th Pokémon movie, Pokémon the Movie: Genesect and the Legend Awakened, three months after its successful theatrical run in Japan, the quickest trip to a U.S. showing in the entire history of Pokémon movies. This one's quite an improvement over last year's movie, Kyurem vs. the Sword of Justice, thanks to a more engaging plot, a stronger emotional pull, and a formidable villain balanced out by an equally formidable Pokémon opponent. The icing on the cake is the urban setting chosen for this adventure—New York City, this reviewer's hometown! CN ran the film in a 90-minute time slot even though the film is listed on Wikipedia as being 96 minutes. I'm assuming that running time includes the 22-minute Pikachu short, Pikachu and Evee Friends, that played with the movie in Japan. Unfortunately, the short wasn't shown with the film on Cartoon Network. (They did, however, preview the first two episodes of Pokémon the Series XY.)
The plot has to do with the resurrection of five ancient Pokémon, the Genesect, from their fossilized remains and their disorientation in the modern world. Reborn in a lab and made to resemble robotic creatures with powerful weapons built into their bodies, the five creatures are at large as the film opens, having apparently escaped the shadowy figures who recreated them, and are desperate to find something they know. (Wikipedia identifies Team Plasma, antagonists from the TV series, as the creators of the Genesect, but I saw no sign of them in the film itself.) When the Genesect lash out at other Pokémon, they are stopped by MewTwo, the super-powered cat Pokémon first introduced way back in 1999 in Pokémon: The First Movie, and a self-proclaimed champion of all defenseless Pokémon. MewTwo feels some sympathy for the Genesect because he, too, was created in a lab by unscrupulous scientists, but his entreaties are rejected by Red Genesect, the gruff-voiced Genesect leader and most powerful of the four. The subsequent flight of the Genesect takes them to Manhattan, which offers a high-rise skyline that closely resembles the rocky landscape that the Genesect once called home—300 million years ago!
The Genesect wind up in Central Park, where the sprawling attraction, Pokémon Hills, has just been established to create a Pokémon sanctuary in the middle of the city, and MewTwo, in close pursuit, arrives not long afterwards. The series protagonist, Ash Ketchum, and his friends, Iris and Cilan, just happen to be visiting Pokémon Hills when the Genesect arrive and they wind up getting embroiled in the conflict. The littlest Genesect is able to articulate a simple message, "I want to go home," in a child's voice, thus establishing contact with Ash and company and earning their sympathy, but Red Genesect then orders him to attack his new pals. The Genesect go underground to establish a nest in a transformer substation below the park, leaving the beleaguered Eric, the engineer in charge of Pokémon Hills, working all by himself to try and keep the city from going dark.
In the course of it, MewTwo engages in battle with Red Genesect in the skies over Manhattan, with lots of slamming into buildings. Eventually the battle continues underground in the substation, where most of the climactic action takes place. It is here where the Pokémon from Pokémon Hills decide to take a stand and strike back at the Genesect who have disrupted their tranquil home. Only when MewTwo is able to take Red Genesect out into space to show him the planet from above and convince him he's been home all the time and that the place has changed drastically in the millions of years since he's been extinct is any kind of resolution possible.
I would like to have seen more battle action in the streets and above the skyline of Manhattan. Those scenes are quite spectacular, but they're way too short. While the conflict between MewTwo and Genesect is a compelling one, the power station is not the most interesting backdrop for it. However, the reliance on multiple Pokémon from Pokémon Hills to enter the fray and take on the Genesect offers a fresh angle and makes for quite a stirring plot development. The Pokémon defenders are led by Feraligatr, a muscular bipedal alligator-like Water-type Pokémon, who bravely leads the resistance. In fact, he and the other Pokémon play a much greater role in the action than Ash and his friends, who stand by and watch during most of the climactic battle. Even Pikachu, Ash's Pokémon sidekick, participates in the battle more than Ash does and suffers much greater injuries than I've seen him suffer in quite some time.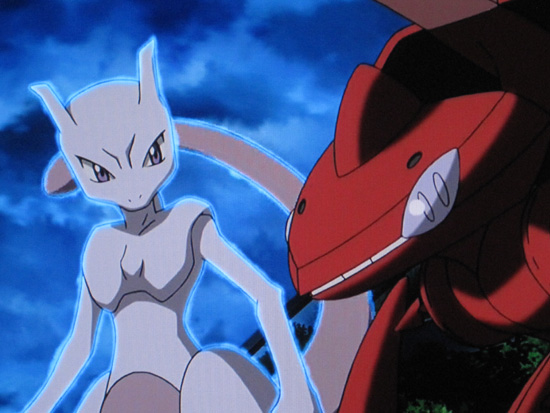 MewTwo, rather than any of the human characters, is the main opponent of Red Genesect and is none too concerned about what happens to the humans. It was great to see MewTwo again, one of the more interesting Pokémon antagonists from the past, but I don't understand why they have a young female voice actress portraying him. A deep male voice (provided by Philip Bartlett) was used back in Pokémon: The First Movie. The actress who does MewTwo here, Miriam Pultro, gives distinctly undramatic line readings and is way too restrained and expressionless. When I sought answers to this question, I got the following from Wikipedia: "This Mewtwo is an entirely different individual from the one that appeared previously in Pokémon films, possessing a feminine voice and distinct personality traits in comparison to the original Mewtwo." Okay, if you say so, but I got no indication of that from the film itself. In fact, MewTwo's flashback to his own creation resembles exactly what we've seen from MewTwo's origin story in the past. And I was puzzled by Ash's blank-faced reaction to MewTwo, as if he'd never seen the character before. Has he completely forgotten the first movie by now?
Another problem I have is the design of the Genesects, who should have been much less machine-like. They look and sound like robots rather than 300 million-year-old fossils come back to life. While they're genuinely scary-looking and -sounding at times, with exceedingly creepy metallic chewing and chirping sounds, I felt their design should have been more organic, like living beings rather than mechanical creations, and made it much easier for us to feel sympathy for them.
As usual in these movies, the attention to detail in crafting settings based on real world locations is quite impressive. As someone who frequently visits Central Park, I was delighted to see such loving recreations of it in the film, although the idea of building a massive sanctuary like Pokémon Hills in the middle of the park would face such fierce community resistance and high-powered legal challenges that such an enterprise could never happen in real life, even if there were plenty of Pokémon to go around. The film also features a shot of Times Square in its current Blade Runner-style incarnation, with massive digital flatscreen billboards plastered over every high-rise building in sight in a frenzied swirl of color, light, letters and advertisements. The lettering in this shot, however, on closer inspection, turns out to be Japanese. We haven't quite reached that point in New York yet, although people were very paranoid about that 20-odd years ago when a Japanese company bought up Rockefeller Center a few years before the "economic miracle" came crashing to a halt. Unless I'm not reading it correctly and it's actually Chinese! We haven't reached that point yet either, but, given a few years, that may be far more likely.
The opening credits are quickly plastered over the prologue, as the Genesects explore their new environment and MewTwo is alerted to their presence, rather than the designated sequence a few minutes into the film. So when the theme song is played over Ash and company cavorting with the Pokémon in Pokémon Hills, there are no credits to accompany it, which struck me as an odd decision by the U.S. distributor. The theme song is very nice, too, being a longer version, with new verses added, of the song from Pokémon Black and White, the series that's been playing on Cartoon Network for the last three years. In any event, I enjoyed this Pokémon outing a great deal, although I look forward to getting the Japanese-language version so I can hear what MewTwo really sounds like.